Former Bad Boy 'Kain Cioffie' Takes Aim At Diddy in 'Letter To Puff'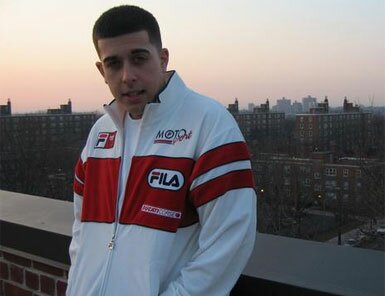 Former Bad Boy recording artist, Kain Cioffie, has returned with a new video taking aim at Bad Boy Records founder, businessman and actor/director, Diddy, entitled "Letter To Puff." In the video the rapper attempts to 'set the record straight' regarding his breakup from the label and Diddy's alleged broken promises to him, which Kain reveals in the story line type song and video.

First known as the "white rapper from Queens" signed on to P. Diddy's Bad Boy label, Kain first appeared in the all girl pop group Dream's video of the remix to their single "This Is Me" off their album It Was All a Dream released on Bad Boy Records in 2001. The single, which reportedly sold 2 million copies, landed Kain, at that time, a spot on MTV TRL (Total Request Live) due to girl group Dream landing the #1 spot on their countdown, which was a reported first on TRL for a girl group at that time.
By that time, Kain was well on his way, however the sudden fame was put to halt when Diddy's distribution deal with Arista Records was lost, who according to Kain, sparked a trail of misfortune, deceit, backstabbing, and broken promises as heard in the lyrics like the following verse taken from Kain's song 'Letter To Puff':
You lost distribution, I was a free agent getting two way pages from three majors/Doug say walk off tonite/I was like nah homeboy/I'm Bad Boy for life!/My loyalty is tough/Alright Puff/I was just a new kid on the block with the right stuff/My downtime wasn't two years thick/ So I just kept making singles like the US Mint/You told Phiffe? You was bout to make the cash lay/Betting I'd sell 4 million on a Bad day/On the surface I was grateful my man/But if that's the case why the fuck you Making the band/And almost all of them suck…
Following that, Kain goes into the legal issues and lawsuits that followed the deal and friendship gone bad between himself and Diddy:
I had to come an holla when I got the court case/You said you'd have my back always/Don't even worry Puff/I'll have that money back in four days/Yea some favor/When I came thru/You wasn't there/And neither was the paper/I'd had to hit Blaze up for the loaner/Had 30 grand to me by the time I hung the phone up/And I still wasn't pissed Puff/That's the shit a real family consist of/But the straw that broke the camel's back/Was when the feds got Bar and my man was trapped/Yall were cool before any camera's snapped/So one letter from you was a standard fact/This your rapper's delight/Cause aside from a check/This is something you could actually write/I tried to stay positive from the get go/But I had to let go when you said no/Yeah, yeah, they set my boy up/And the next call you got was from my lawyer/Stay tuned for the coverage in/I want clean with my tunes and my publishing/I figured 6 months and you'd back off/Now I'm four years strong getting blackballed/I've matured so much the game's new to me/I used to scream f-ck Puff and his unity…
With patience and talent, Kain claims, he hasn't let the misfortune cause him to quit and is still pursuing his rap career with line:
"I got the patience of a saint Diddy/I wont stop hustling until it's Kain city/I'm too hot not to be heard/So I'm coming for the spot I deserve, motherf-cker!" the rapper ended in his verse.
Following that in the video, the rapper plays a clip from BET with former host Big Tigger of Rap City and 106 & Park where Diddy was talking about Kain's new album releasing.
The rapper who has now made his feelings somewhat clear 'setting the record straight' and opened up about how he feels about the past incidents between him and his former Boss, Diddy, is now planning a new album he's entitled Ghetto Metal which is seen fading away toward the end of the video.
Watch and listen to Kain's video "Letter to Puff."
Watch on Kain on Dream remix to This Is Me feauring Diddy.