Soulja Boy Prepping New Album "Follow Me On Twitter: Gangsta Grillz Mixtape"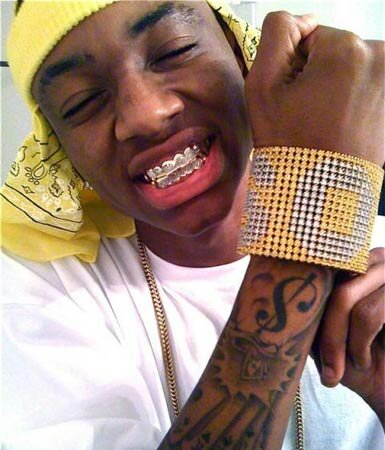 Rapper Soulja Boy, in signature trend-setting fashion, is prepping a new mixtape album release titled "Follow Me: Gangsta Grillz Twitter Edition" that will surely capitalize on the hottest and newest social networking and blogging frenzy.

Soulja Boy, who's definitely no newbie to internet trends as he was one of the first to practically create his own music career and land his record deal from social networking from sites MySpace to YouTube, keeps his fans, friends and others updated with posts to his Twitter daily keeping them abreast on everything from his latest news, his upcoming projects, and even sometimes just holds a conversation with others while his over 300,000 followers simply tune in or possibly join in.
Now, Soulja Boy's setting up for a new mixtape "Follow Me On Twitter" which will be dropping as a Gangsta Grillz joint on the popular Gangsta Grillz mixtape series by DJ Drama, the Atlanta, Georgia-based hip hop artist and rapper T.I.'s official DJ for Grand Hustle.
"Me and Soulja Boy got a new Gangsta Grillz solo coming out called Follow Me: Gangsta Grillz Twitter Edition… be on the lookout for that," stated DJ Drama while on the set of one of Soulja Boy's many video shoots for his upcoming music video of Gucci Bandana featuring Gucci Mane and Shawty Lo.
DJ Drama, himself also has an official Gangsta Grillz: The Album (Vol. 2) slated for release on May 19, 2009 and is also working with Gucci Mane on a new Gangsta Grillz mixtape as well.
There is no release date as of yet for Soulja Boy's "Follow Me: Gangsta Grillz Twitter edition," however the album may be expected sometime this year.