Soulja Boy, Gucci Mane Behind The Scenes On Set Of Gucci Bandana Shoot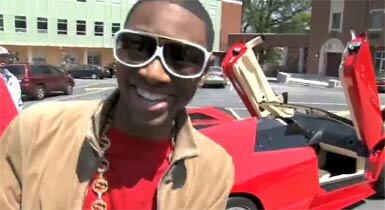 Go behind the scenes on the set of Soulja Boy's new "Gucci Bandana" music video shoot where the rapper dubbed full name Soulja Boy Tell' Em, real name DeAndre Way, flossed in a red Lamborghini while hanging out on the shoot with Gucci Mane while filming for the new upcoming video "Gucci Bandana." Unlike the previous released behind the scenes photos of Soulja Boy, Gucci Mane and Shawty Lo on the set, Shawty Lo who's also in the video doesn't make an appearance in this video.

"Mane that's my dogg mane, Soulja Boy, Gucci Mane, you know how we rock mane," stated Gucci Mane while reflecting light off his diamond studded arm band to the camera from the passenger seat of a red Lambo along with Soulja Boy who didn't use his white lambo that he recently purchased.
"It's going down I don't think yall ready for this," expressed Soulja Boy in regards to the upcoming video.
In the behind the scenes video, Soulja Boy travels from one scene to another revealing bits of info regarding who, where and what will be in the upcoming video.
At one point of a scene, Soulja Boy reveals that he'll be doing 'donuts' in the Lambo and possibly with the winged doors up on the car which, according to one guy on the set, isn't possible, but that didn't seem to sway Soulja Boy from still wanting it to be in the video.
Cameos in the behind the scenes footage include OJ Da Juiceman, DJ Drama, Rich Boy, and others.
Check out Soulja Boy an Gucci Mane fliming for the upcoming Gucci Bandana music video.