Jamie Foxx Talks Miley Cyrus Sex Tape, Slams Star 'Be A Lesbian Like Lindsay Lohan!'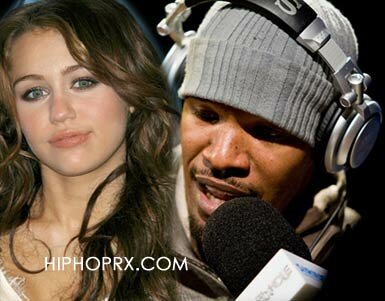 Jamie Foxx, who will be playing in the movie The Soloist which releases on April 24, recently went in on Miley Cyrus aka Hannah Montana on his show The Foxxhole after a caller called in and stated what the singer/actress said about demolishing another musicians career.

Foxx and his team of radio personalities one of which who referred to Cyrus as the "little white bitch" bashed the teen television star of the Disney show Hannah Montana for allegedly threatening to ruin the British music group Radiohead's career after band frontman Thom Yorke allegedly refused to meet the pop starlet before their performance at the Grammys.
The controversial comedian and radio host was first confused about who the caller was talking about, but began first slamming the singer for having what he calls "bubble yum gums" referring to the singer's mouth which he claims has a lot of gums. "She got to get a gum transplant," Foxx joked.
"Make a sex tape and grow up," Foxx later added jokingly followed by some rude suggestions, "Get like Britney Spears and do some heroin. Do like Lindsay Lohan and start seeing a lesbian and get some crack in your pipe. Catch chlamydia on a bicycle seat. Now that's what I want."
In a post on Miley Cyrus' blog, the singer stated the following on the same day that the radio show was aired: "I've come to a conclusion. People want to find reasons not to like me. whatever though =] Jesus died for my sins… LIFE IS SO GOOD!"
The celebrity teen star later followed with, "if you cant say something nice dont say anything at all."
The comments may have been a tentative response to the controversial radio host (Jamie Foxx) and his crew for dissing her on his radio comedy show.
Check out the audio from Jamie Foxx's The Foxxhole Radio Show slamming Miley Cyrus.