Rick Ross, Game, Fat Joe, Ja Rule Attack 50 Cent On New Diss Song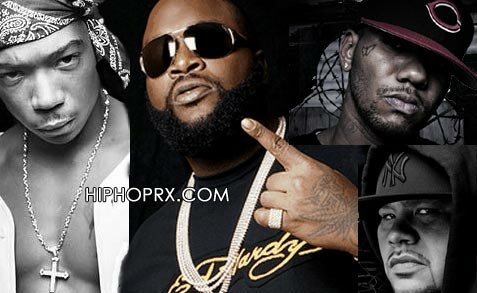 Rapper Rick Ross is back with another diss song aimed at rapper 50 Cent following diss tracks like Ross' "Don't Count The Boss Out (diss song)", but this time in his remix to his track "Mafia Music" (listen here), which is from off Ross' upcoming album "Deeper Than Rap," the Miami rapper brought on past and present rivals of 50 Cent including The Game, Fat Joe and Ja Rule who spit diss verses aimed allegedly at rapper 50 Cent with reference to him as 'Curly' as well.

The Game, who actually encouraged Rick Ross to get at him in a past interview with Eddie Francis of Seattle radio station Kube 93, claiming "for the first time in four years" he was riding with 50 Cent who, in his opinion was "eating" Rick Ross, jumped on Ross' song but actually didn't mention 50 Cent in his verse on the over 6:00 minutes track unlike the others such as Ja Rule who didn't hold their tongues.
"Curly [50 Cent] get off my d-ck/before that chi chi chi chi chopper get to pop pop pop pop poppin off/at n-ggas that be mouthing off/read in between the lines when you hear me talk/go on get out of line, this Rule York," raps Ja Rule in his hip hop diss verse aimed at 50 Cent.
Afterward, rapper Fat Joe comes with his diss verse going in at G-Unit crew such as Nelson Gomez, while attacking 50 Cent in his verse such as mocking the reported incident where 50 Cent's chain was allegedly snatched on stage.
"Still went to Africa/still wore the big chain/where you got robbed at/n-gga on the same stage/I say sh-t that you cant say/cause I am not a snitch/I ain't bitch made," Fat Joe rapped in his verse dissing 50 Cent.
Of course, Rick Ross, who also claims he's enlisted Lil Wayne for a 50 Cent diss track called "Valley of Death" which appears on his album, follows up on 50 diss track "Mafia Music Remix" with diss after diss of his own ended with the words of his album title, "It's Deeper Than Rap."