KING Magazine's Last Cover Girls (Keyshia Cole and Tahiry, Joe Budden's Girl)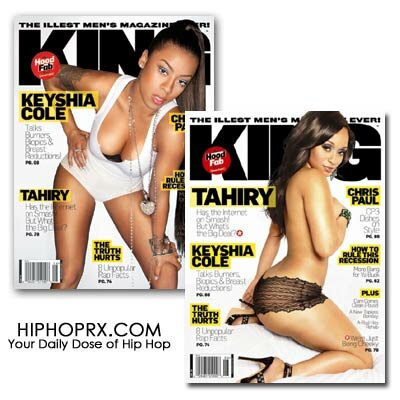 King Magazine will be laid to rest and will be issuing out its final covers featuring singer Keyshia Cole and Tahiry (Joe Budden's girlfriend). Tahiry, who first became a big deal in her infamous booty shot seen on JoeBuddenTV, then after appearing in cameos throughout the Joe Budden TV web series, the popularity of JoeBuddenTV fans turned Tahiry fans, led to KING Magazine featuring her on the cover, but unfortunately for KING, it's their last issue as their magazine has decided to close it's operation down.

Tahiry and singer Keyshia Cole will go down in history, unless KING returns, as the last KING cover girls. Keyshia Cole in a sexy white body bathing-like suit and Tahiry, half-naked, in a black sexy laced lingerie underwear.
Did his being half naked for the camera revealed to 100s of thousands bother the rapper? Well, maybe just the 1000′s of haters did! Read what Joe Budden had to say about his girl's sexy and revealing photo shoot for the last issue of KING Magazine:
Be proud baby, i'm proud of you… this is a big deal…(why am i typing to her when i can tell her later, duhhh)…
luckily 4 me i have about 20 of these clips, with this being the shortest 1..

to all of tahiry's haters (cuz she has haters now), why are u watching ?? or why r u posting anything with Tahiry attached to it on your pathetic websites ?? To generate traffic ?? I know, its tough being a loser, especially as an adult…
Watch video of Tahiry (Joe Budden's Girl) Behind The Scenes Photoshoot with KING Magazine