Black Eyed Peas Album Cover The E.N.D., Plus Tenative Tracklisting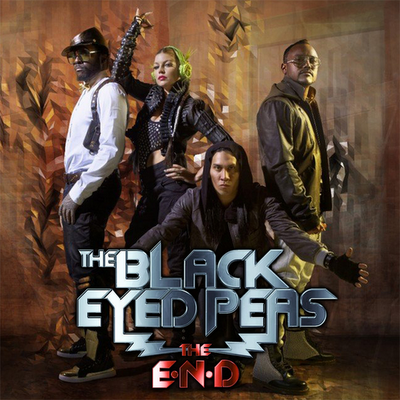 This is the reported album cover for the hip-hop group Black Eyed Peas' highly anticipated album "The E.N.D. (Energy Never Dies)" which is scheduled for a release date of June 9, 2009.

The first single off the album is entitled "Boom Boom Pow" and was released last month. As recently reported, the single managed to pull in 465,000 music downloads in one week.
The Black Eyed Peas consisting of will.i.am, apl.de.ap, Taboo and Fergie are scheduled to go on a Summer concert tour for the album The E.N.D. sometime between May and June.
The E.N.D. CD Tracklisting (As Seen On Back Album Cover)
1. Boom Boom Pow
2. Love Bomb
3. Dirrty Dancer
4. Imma Be
5. Rock Your Body
6. Backseat Love
7. Sing My Song
8. Simple Little Melody
9. Electronique Funk
10. Out Of My Head
11. Valley Of The Dolls
12. Boogie 2Nite
13. To Tha Club
14. Sisco Rollercoaster
Bonus Track – Smiling
Update: Official Black Eyed Peas Album Cover