Rihanna and Chris Brown: What's Love Got To Do With It?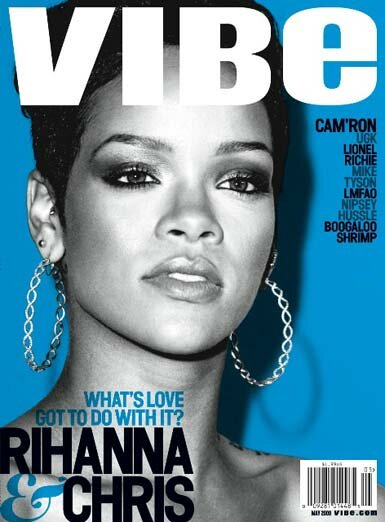 Pop star, singer Rihanna will be covering the front page of Vibe Magazine's May issue with the controversial headline "What's Love Got To Do With It" which relates the singer to the legendary and multiple award winning singer/actress Tina Turner. In more than one way, the singer is similar to Turner: they both are popular singers and the both are alleged victims of domestic abuse by their significant other (partner) also of the music business.

Since the incident between Rihanna and alleged boyfriend Chris Brown, who's depicted by some as the new Ike Turner, the couple has been thrown into controversial reports and headlines stemming from their fight and Chris Brown's alleged attack on Rihanna the night of the pre-Grammy's (February 8, 2009). Following the first report, a photo of a bruised and battered Rihanna was leaked on the internet by celebrity gossip site TMZ which shocked the public even more than the first report of the alleged fight between the young couple.
Between that time and now, both Rihanna and Chris Brown have made brief statements addressing the public, neither with any details of the alleged incident due to the legalities which followed leading up to Chris Brown being charged with two felony charges of assault and criminal threat against Rihanna, to which the singer plead not guilty on April 6th.
Now there are supposed details Brown and Rihanna leading up to the incident in the upcoming Vibe feature.
Meanwhile, the Chris Brown case is not over and the singer is scheduled to return to court in three weeks (April 29) for a preliminary hearing.
Check out the photo of Rihanna's Vibe Magazine 2009 cover and visit Vibe for an excerpt from the feature.