Kourtney Kardashian Does Sexy Maxim Magazine Spread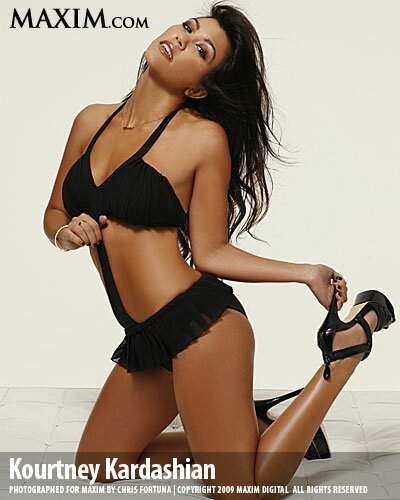 Kourtney Kardashian, the oldest out out of the Kardashian sisters [from oldest to youngest - Kim Kardashian, Khloe Kardashian, Kendall Jenner (half-sister), and Kylie Jenner (half-sister)], recently did a sexy photo spread for Maxim magazine.

The 29 year-old reality star, socialite and clothing company owner speaks about her first kiss, first car, first paparazzi scare and more.
Kourtney Kardashian's First Kiss
My best friend and I went to sleep-away camp every summer. We'd share stories of making out with boys, but we never did, so we made it all up. My real first kiss was at a friend's house when I was in junior high. He was such a good kisser, and we're still close friends!
As for her first car, Kourtney Kardashian reveals that it was a black BMW 3 Series which she got for her 'Sweet 16′. The star stats that she went to take her driver's test, but unfortunately, failed and had to drive back to the house with her mother riding shotgun.
In Kourtney Kardashian sexy pictures for Maxim magazine, the "Keeping Up With The Kardashians" reality television star can be seen in a sexy black two piece bikini posing for the camera.
Check out photos of Kourtney Kardashian for Maxim Magazine