Halle Berry Dances To She's Fine (Halle Berry Song) by Hurricane Chris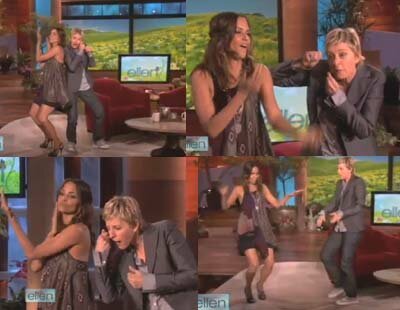 Halle Berry, one of TV's sexiest actresses and one of hip-hop's favorite metaphors to "what's fine" (ex: she's fine like Halle Berry) appeared on The Ellen Degeneres Show and did a sexy dance of her own version of the "Halle Berry" dance.

While getting low and shaking her body, Halle Berry could be seen holding her hand in front of her face as if primping in front of a mirror while getting sexy for a night on the town as she was joined by TV host Ellen Degeneres who was also dances while simulating putting on makeup and primping as well.
"If you go to YouTube you'll see that there's a song about you on YouTube that everybody is doing a dance to," stated Ellen prior to Halle Berry's dance.
Without knowing the actual title of the song "She's Fine" which is by Shreveport, Louisiana rapper Hurricane Chris, Ellen Degeneres added, "It's called Halle Berry Is So Pretty," which is probably why the actress part of Halle Berry immediately improvised in the primping part of her dance to imitate getting pretty.

Want more Halle Berry pictures?
Watch Halle Berry doing her sexy dance to the Hurricane Chris song on the Ellen Degeneres Show