Rapper T.I. Appears In Court On Gun Charges, Must Report To Prison Within 30 To 60 Days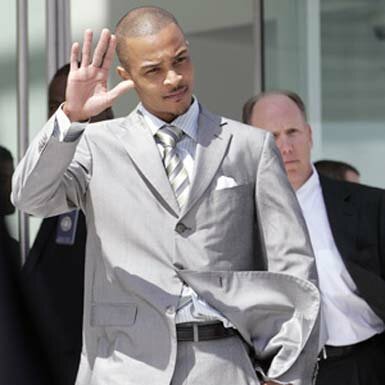 Grammy Award winning Atlanta rapper T.I. will be sentenced to one year and one day in prison as a part of his plea deal on a felony weapons charge stemming from a 2007 incident.
As a part of the plea, the rapper completed 1,000 hours of community services and has to pay a $100,000 fine. After being released from prison, the rapper must complete another 500 hours as a part of the deal, submit to an audit, drug counseling and 60 days of home confinement.

According to reports, Judge Charles Pannell Jr states that the rapper has exceeded the court's expectations and he hopes that the T.I., born Clifford Harris, case will inspire other plea deals like his.
Although everyone was expecting the rapper to be possibly ushered to his prison cell on today, T.I. has between 30 to 60 days to voluntarily report to prison. Thus far, the judge has accepted that T.I. has agreed to his commitments which will not allow him to enter prison before May 19th.
While in court, the rapper gave a speech which lasted nearly 10 minutes that spoke about his trouble as a youth, the death of his best friend and about turning his wrong-doings and mistakes into positives.
"Your honor, perhaps if I didn't make the mistakes that I did as a youth, maybe I could have armed myself legally," he said.
During court, a number of supporters spoke on behalf on T.I. which included church activists Ambassador Andrew Young and Bishop Eddie Long which Judge Pannell listened to.
As T.I. was thanked by the judge for successfully meeting the terms of his plea deal and the conditions of his bond, T.I. thanked the legal team and stated that he was happy that he has pleased the judge and attorney's all while trying to please his family. After court, the rapper held a brief press conference and thanked everyone and his supporters.
If T.I. wouldn't have gotten the plea deal that he has, he would have originally faced up to 10 years behind bars.