Pharrell's Got No 'Beef' With McDonald's! After Song and Dance Incident In Paris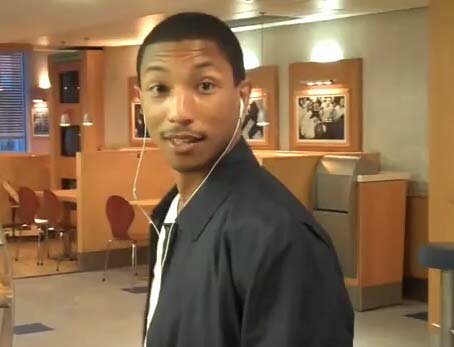 Pharrell wanted to get into some hip-hop 'beef' literally overseas, but ended up with no beef at all! Hip hop producer Pharrell busted out a song and dance caught on video camera at a local McDonald's in Paris France on Tuesday (March 24) at an attempt to get the fast food restaurant to serve him during non-business hours.

Pharrell born Pharrell Williams, as a producer, singer/songwriter, is common to doing song creation and probably choreography too in the studio but on a connecting flight home from Malaysia, his local song and dance with the hook "Big Mac, Fillet-O-Fish, Quater-Pounder, French Fries, Icey Coke, Milkshake, Sundaes and Apple Pies," took the workers at this McDonald's in Paris by somewhat of a surprise.
Unfortunately, Pharrell was left high and dry at the local McDonald's where he had no luck getting his 'fast food' as the manager/worker ended up walking out of the restaurant without serving him.
"Hey where are you going?," asked Pharrell. "She going to call the police," Pharrell or someone else adds off camera.
As the worker walks out of camera view, Pharrell states "What are we doing!" in confusion.
The award winning producer, one-half of the production team The Neptunes and lead singer and drummer of the band, N.E.R.D., has multiple awards under his belt, including a reported three Grammy Awards, and Producer of the Year awards at the The Source Awards and the Billboard Music Awards.
Watch Video of Pharrell's McDonald's Song and Dance In Paris