Go Inside The Homes of Rapper Mims and Aubrey O'Day: MTV Cribs Episode 8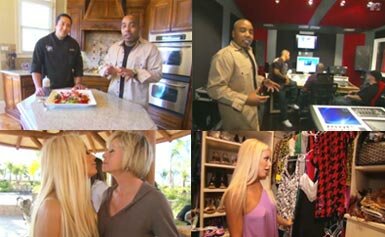 Rapper Mims shows off his Atlanta pad and recording studio, while Aubrey O'Day of Danity Kane gives a tour of her bedroom and workspace on MTV Cribs.

Mims shows off a delicious dish his chef Enrico 'Rico' Cunnington made, strawberries and shrimp salad.
"That's real elegance right there…you don't get that in the hood," Mims says about the strawberries and shrimp salad.
The rapper reveals he loves his water, including vitamin water and shouts out to 50 Cent. Mims goes on to show off his bedroom, gym and in-house studio.
Aubrey O'Day tour consists of the singer/model showing off her 7200 sq ft home with 5 bedrooms/5.5 baths. Aubrey O'Day shows off her Danity Kane plaques, and teases the camera while standing over in the tub as if she is about to take off her clothes.
"Yall thought I was going to take off my clothes, huh," Aburey O'Day says while laughing.
She goes on to show off her closet and her Tahitian-themed pool which her family members and parents were hanging out at the moment. Aubrey O'Day goes on to tease the camera by showing off a kiss that she does with her mother Kandy done by an Indian tribe in New Zealand. Towards the end of her tour, Aubrey O'Day shows off her cars and gives viewers something special to look at…. watch and see.
Take a tour of Mims' pad on MTV Crib

Take a tour of Aubrey O'Day's pad on MTV Crib