Ciara on Justin Timberlake: "He Is My Toy"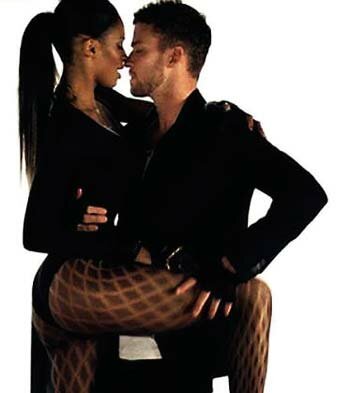 Ciara and Justin Timberlake play around on the set of "Love Sex Magic" or should we say Ciara plays around with Justin Timberlake.

"What are you going to call the song?," Timberlake asks Ciara on the set.
"Love Sex Magic," answers Ciara.
"I like it, it certainly has a ring to it..," responds Timberlake as Ciara laughs.
Ciara, who "shows off her fit physique" as seen in these previously released sexy photos taken from the video shoot of "Love Sex Magic," goes on to reveal that she plays around with Justin Timberlake on the set and, Timberlake who admits it also, surely doesn't mine being played around with by the sexy Ciara.
"He is my toy, in a sense, in pretty much the majority of the video," Ciara tells Access Hollywood.
"She's basically using me as a prop," states Justin Timberlake.
"The video is gon' be hot.." Timberlake says before that.
The song "Love Sex Magic" was co-wrote and co-produced by Justin Timbelake for Ciara's upcoming album "Fantasy Ride," which drops in stores on May 5, 2009.
A sneak peek preview of the video was leaked on the internet Thursday (Mar. 19) and the full video, which is directed by Diane Martel, will premiere this Monday (Mar. 21).
Meanwhile, go behind the scenes with Ciara and Justin Timberlake in their interview with "Access Hollywood."