Kim Kardashian and Reggie Bush Hot and Steamy GQ Magazine Photoshoot: Go Behind the Scenes!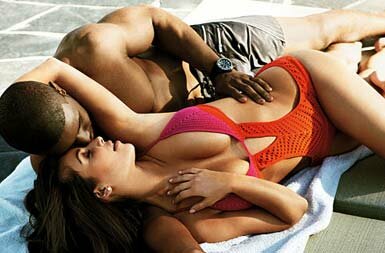 Go behind the scenes with celebrity socialite Kim Kardashian and NFL's New Orleans Saints running back Reggie Bush at their GQ Magazine photoshoot for the April edition of the magazine.

The sex symbol icon and reality TV star Kim Kardashian reportedly started dating Reggie Bush after her controversial sex tape was leaked of her and then boyfriend Ray J having an intimate sexual encounter on camera.
Kim Kardashian who's now most popular for her family television reality show Keeping Up with the Kardashians which airs Sundays on E! is now, along with Reggie Bush, one of the hottest 'items' on celebrity gossip blogs sites, TV shows, and magazines such as this hot and steamy photo shoot and feature of the two in GQ Magazine.
When asked how did the two meet by GQ, Kim Kardashian repsonds, "Matt Leinart [quarterback for the Arizona Cardinals] was dating a friend of mine, Paris Hilton. I went to the ESPY Awards with my stepdad, and Matt was sitting with Reggie. The rest is history."
Go behind the scenes of the Kim Kardashian and Reggie Bush GQ Magazine Photoshoot