Ciara's Hot and Sexy 'Love Sex Magic' Sneak Peek, Preview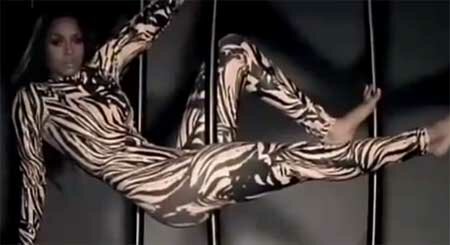 Ciara's music video "Love Sex Magic" has a sneak peek which has leaked on the internet and it's even sexier than the recent sneak peek photos of the video shoot released a couple of days ago.

The "Love Sex Magic" sneak peek video is a little over a minute and a half preview of Ciara wearing a sexy tiger striped leotard while performing an exotic-type pole dance between 5 flexible gymnast type poles.
Sliding back and forth in between the poles as if caged in like an exotic animal, Ciara gives much to anticipate for the full music video.
While Justin Timberlake is not in the sneak peek, he is featured on the song which he produced also and will appear in the video, according to a recent behind-the-scenes interview with the two.
The full length "Love Sex Magic" music video, which is expected to premiere on Monday, March 23, is directed by Diane Martel.
"Love Sex Magic" comes off of Ciara's upcoming album "Fantasy Ride" which is expected to drop on May 5, 2009.
Watch Ciara's "Love Sex Magic" Music Video Sneak Peek