Caught On Tape: 50 Cent Goons Knock Out Rick Ross' Rapper Gunplay Of Triple C?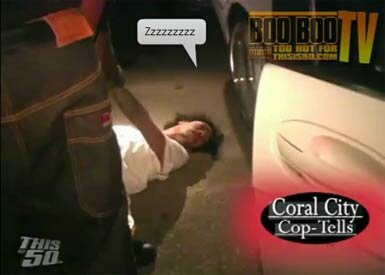 In a video leaked on the internet, where rapper 50 Cent as Pimpin Curly is providing commentary, Rick Ross' Maybach Music affiliate Gunplay of Triple-C (Carol City Cartel) is seen allegedly throwing out threats and dares aimed at 50 Cent.

Presented by BooBooTV, 50 Cent's new too hot for ThisIs50 video broadcasting site, the Carol City rapper Gunplay, can clearly be seen trash talking at the beginning of the video wearing a Deeper Than Rap t-shirt. 'Come to Miami and get your scalped peeled!,' Gunplay talks in the video.
Towards the middle, Gunplay is later seen laying on the pavement with his eyes rolled back into his head as if he had just been knocked out. The actual blow that may have knocked the rapper out was not seen in the video, but what can be seen is Gunplay being picked off the pavement by one of the men standing around him. Gunplay can be seen totally unconscious at this time.
The clip of Gunplay shown in the video footage is evidently taken from another video in an interview posted by Maya The B where rapper Gunplay along with other Triple C member Torch 'go in' on 50 Cent.
The original version of the video diss clip with Triple C's Torch and Gunplay show the rappers going in on 50 Cent throwing multiple dares and threats sending out a message that they wanted to take it to the streets.
This is evidently what sparked the response video by rapper 50 Cent for BooBooTV and may have been what led to rapper Gunplay getting knocked out, if indeed it was a an actual recent clip.
Photo of Triple C – (l-r) Gunplay, Rick Ross & Torch

Check out the video below that may have sparked the knock-out incident of Gunplay:
Now check out the video below of Gunplay knocked out which is commentated by 50 Cent as Pimpin Curly: