Soulja Boy Parties, Performs In Cancun Mexico On Spring Break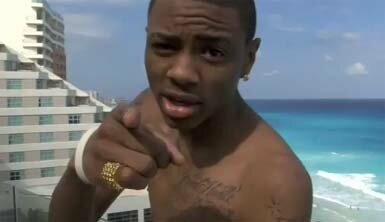 Soulja Boy goes on a Spring break musical performance/mini-vacation to Cancun Mexico and enjoys the beach, the sun, the hotel, the ladies, a bit of laser light fun with Miami Mike and more.

The rapper who recently had success with his song "Kiss Me Thru The Phone" on the Billboard charts also sends out a birthday shout out to S.O.D. artist JBar. Check out Soulja Boy in action and come along on a journey as he takes you into the world of Spring breaking in Cancun Mexico as he looks out onto the balcony of his hotel room as MTV's Real World was out filming as well with a new cast of reality TV stars, according to Soulja Boy.
Watch video footage of Soulja Boy In Cancun Mexico where he says, "What happens in Cancun, stays in Cancun."