Real and Chance Back For Another Season of Reality TV Show 'Real Chance of Love' on VH1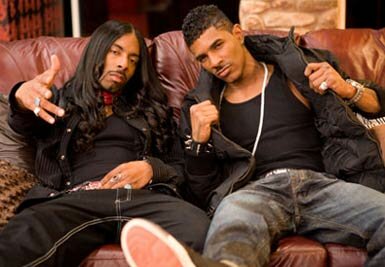 The reality TV show brothers 'Real' and 'Chance' known also as The Stallionaires for their cowboy family lifestyle of raising Arabian horses (and for their music group affiliation) who first appeared on the reality TV show "I Love New York," then their own reality show "Real Chance of Love," is back for a second season of their popular VH1 reality television show.

Ahmad 'Real' Givens and Kamal 'Chance' Givens are looking for love across the nation and though they were unsuccessful in the first season, the two are willing to go at it again. The two brothers will be looking for twenty new women to move into the "Stallioniare" Ranch and compete for one of them.
Speaking on the first season, it was Real who came closest to love with the "Real Chance of Love" contestant 'Corn Fed'. The reality show couple was thought to be in love, but the short lived relationship ended without any "Real Chance of Love."
According to Corn Fed, she felt like Real's attempt to have a relationship with her was just for cameras, in a statement to VH1.
On the other hand, it seems Chance had no chance whatsoever at love as he chose not to choose anyone in season one.
Meanwhile, auditions are currently being held in Los Angeles, Miami, Atlanta amongst others, with additional upcoming dates in New York City and Kansas City.
Those interested should email the following information:
* Name
* Age
* City and state where you live
* Phone Number
* Email address
* A recent PHOTO
* And a brief bio telling a) who you are, b) whether you want to date REAL or CHANCE & c) why you would be the perfect girl for him. Send email to Love@RealTalentCasting.com
—————
More dates and information:
Los Angeles, CA March 5 – March 26
Chicago, IL March 5 – 12, 2009
Houston, TX March 5 – 12, 2009
Atlanta, GA March 12 – 20, 2009
Miami, FL March 12 – 19, 2009
Las Vegas, NV March 13 – 18, 2009
New York City, NY March 19 – 26, 2009
Kansas City, MO March 20 – 26, 2009
NEW YORK, NY
Saturday March 21 2009 – 11:00pm – 1:00am
OPERA
264 W. 47th St.
New York, NY 10036
*Victory 2 Multimedia – 212-779-2222
www.victory2multimedia.com
KANSAS CITY, MO
Saturday March 21 2009 – 10 – 11:30 PM
McFADDENS
POWER AND LIGHT DISTRICT
1330 Grand Blvd.
Kansas City MO 64105
Sunday March 22 2009 – 9 – 10:30 pm
TENGO SED CANTINA
POWER AND LIGHT DISTRICT
1323 Walnut St
Kansas City, MO, 64105
Must be 21+