50 Cent In Pimpin' Curly Episode 6 'The Fast Lane, Curly Gets High'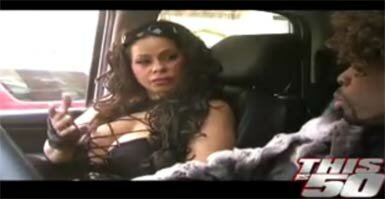 In a new episode of 50 Cent's Pimpin Curly series entitled, Pimpin' Curly "The Fast Lane" – Ep. 6: "Curly Gets High," the character Pimpin Curly played by 50 Cent gets high accidentally on weed and cocaine when trying to sample some product of weed from the weed-man.

"This is some good motherf-ckin weed mayne. What kind of weed is this? I can tell you got some motherf-ckin hashish in here," Pimpin Curly says. "I can feel it," he added.
"Nah… a lil 8ball," the weed-man responds.
"8ball? Crack n-gga!?!," shouted Pimpin Curly.
"Now I'm a motherf-ckin crackhead!," Pimpin Curly says before jumping out of the car claiming that he's not buying anything now because he can't trust anybody.
Suprisingly Pimpin Curly goes on to finish smoking and gets extremely high. This sends him on a frenzy throughout the episode from abusing his pimpin' to running, ducking and dodging the police.
Check out the Pimpin' Curly series 50 Cent Presents Pimpin' Curly "The Fast Lane" – Ep. 6: "Curly Gets High"