Meagan Good Screams For 'Doggy' Style!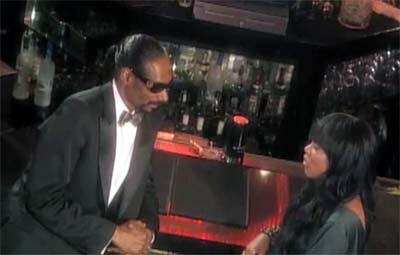 Meagan Good drops by Snoop Dogg's show, Dogg After Dark, and Snoop makes the talented and sexy actress/singer Meagan Good scream!

Meagan Good goes on to share her love of horror films with Snoop Dogg on the show.
"I really did grow up loving horror movies, like Halloween 4 and 5 are my favorite movies, I wanted to be that little girl in that movie, I wanted to like pretend that my ankle was broken… and he'd try to kill me. I used to play out the scenes at one in the morning in my house," stated Meagan Good to Snoop Dogg.
Meagan Good reveals that Michael Myers is her favorite all time horror character over Jason and Freddy because he was more realistic to her.
The actress goes on to talk about her roles in her latest horror movies "Saw 5″ and "The Unborn."
In related news, as previously reported on HipHopRX, Meagan Good has also officially confirmed her new music career as she has been taking up vocal coaching and been recording in the studio with music producer/singer The-Dream.
Check out Meagan Good in her video interview with Snoop Doggy Dogg's 'Dogg After Dark'.