Kardashian Sisters Get Naked For Playboy Magazine?! Kim Kardashian Playboy Photos and more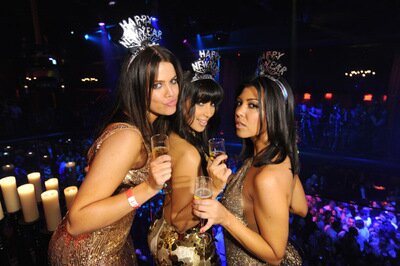 The Kardashian sisters – Kim, 28, Khloe, 24, and Kourtney, 29, probably one of reality television's sexiest sisters, dropped by Ryan Seacrest's KIIS-FM morning show Thursday and talked about the possibility of posing for Playboy and doing a possible nude spread together for the men's magazine.

Following sister Kim Kardashian's nude cover spread for Playboy, it would seem that she could comfort her other sisters a little when it comes to getting naked.
Though, it might not be very necessary for Kloe Kardashian, at least. Kloe is also no stranger to going naked, as the youngest sister of the three, got naked for a recent PETA ad titled the "I'd Rather Go Naked Than Wear Fur" campaign in Los Angeles.
"Is that true that you've been offered a nude layout?" Ryan's co-host Ellen asked the Kardashian sisters regarding the sisters doing a Playboy spread together. "…I thought Playboy wanted to do all the sisters now that Kim's done it," she added.
Kloe who hadn't heard the rumor and who, reportedly, recently lost 20 pounds from her curvaceous body, admitted she would "love it" and says "[Losing weight] is the best revenge," regarding breaking up recently with her boyfriend.
"We could be the new 'Girls Next Door – the brunette version!" added Kim in her sexy teasing manner.
The Kardashian sisters go on to talk more than just Playboy… they also talk about dating possibly Ryan Seacrest, athletes, a reported run in with Chris Brown and more.
Check out the audio interview at RyanSeacrest.com.
Kim Kardashian Playboy Photos and Pictorial (December 2007)

Picture of Khloe Kardashian Naked For PETA.
Watch the video of the Kardashian sisters playing around.