Rick Ross Admits To Being A Correctional Officer; Has Words For 50 Cent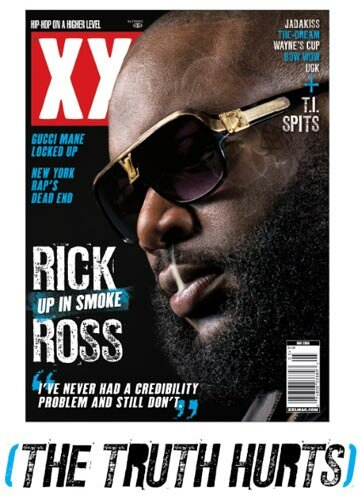 Rick Ross real name William Leonard Roberts II, 33, has finally now admitted to being employed as a correctional officer in the past. This comes almost a year after Rick Ross's correctional officer records were exposed by The Smoking Gun website.

"Department of Corrections (DoC) records show that Ross, whose raps detail the Miami gangster lifestyle and his supposed days trafficking cocaine, did, in fact, work as a correctional officer for 18 months," The Smoking Gun website posted back in July 2008.
According to the record, Ross was appointed as a prison guard in December 1995 at a salary of $22,913.54 and was employed in the system for 18 months. Ross first reportedly worked at the South Florida Reception Center, the Fl Dept. of Corrections, soon after graduating the academy. Even the rapper's social security number was identical to that of the jail guard in the record and later pictures surfaced online of Ross in an officer's uniform, but in a video interview Ross yet still denied the reports claiming the uniformed body was doctored to attach his face.
But Rick Ross, who's on the cover of XXL Magazine's upcoming May issue, has now owned up the truth in an interview with the magazine saying:
"Me not answering or addressing that situation has nothing to do with my career. I've accomplished enough, and I've made enough money for me to be good… Yes, it was me in those pictures. But I'ma tell you this. Me taking that job, I was doing my job. You understand what I mean?"
Knowing that his street cred may be on the line the rapper had this to say also:
"The stuff I talk about is real. The dope is real. The gun talk is official. Look up Kenneth 'Boobie' Williams. Look where he's from. That's not nothing to be proud of. I wish that on no man. But, just to let you know, that's what I witnessed. It's a reality. I cannot discuss certain people that's still in the streets, and I will not. I took a street oath, and I'ma live by that, and I'ma die by that. And it's not about a music career, 'cause that shit, I'm good. It's about me and being in the streets."
And addressing his hip hop beef with 50 Cent, Rick Ross had this to say:
"50 Cent made a statement [that he'll] ruin somebody life. Where I come from, it takes a AK-47 to do that. Cartoons, we laugh—funny. You put on a wig, come out the closet—funny. At the end of the day, we in the streets finna drop another No.1 album, we pressing on."
In regards to the 50 Cent, Rick Ross beef, on today, 50 Cent is reportedly leaking a supposed sex tape of Rick Ross's baby momma Brooke.
XXL magazine's May 2009 issue featuring Rick Ross on the cover will be on newsstands this April 7th.