Lil Wayne's Felony Drug Charges Dropped; Rapper Extends I Am Music Tour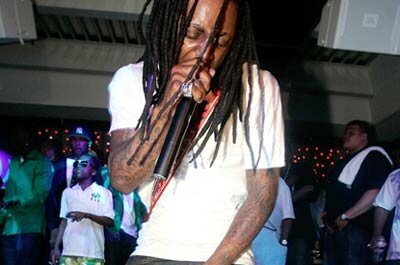 There's one reason why Grammy award winning rapper Lil Wayne may have a grin on his face and it's not because of another paycheck. On Tuesday, rapper Lil Wayne's felony drug charges were dropped after Judge Michael Johnson at the Fulton County Superior Court granted the rapper's request to disregard evidence on the basis of an illegal search.

Born Dwayne Michael Carter Jr., Lil Wayne was arrested in 2006 after police allegedly found marijuana and bottles containing generic Xanax and hydrocodone in his hotel room at the Twelve Hotel.
Lil Wayne's attorney William Head stated to the judge that said his client wasn't the occupant of the room where the arrest was made.
Although the rapper is in the clear on those charges, Lil Wayne still faces charges in Arizona stemming from January 2008 arrest on drug charges and weapons charges in New York from 2007.
In other news, the rapper was hit with a $1.3 million lawsuit by a Rochester, NY, promoter due to three shows being cancelled at the Blue Cross Arena for which he received a $100,000 advance.
In addition, Lil Wayne is currently on tour for his "I Am Music Tour" with his headliners Keri Hilson, Gym Class Heroes, Keyshia Cole and T-Pain which has been extended.

Lil Wayne's "I Am Music Tour" Upcoming Dates
March 2009
17 – Providence, RI – Dunkin' Donuts Center
19 – Newark, NJ – Prudential Center
20 – Baltimore, MD – 1st Mariner Arena
21 – Indianapolis, IN – Conseco Fieldhouse
22 – Memphis, TN – FedExForum
23 – Oklahoma City, OK – Cox Business Services Convention Center
25 – San Antonio, TX – AT&T Center
27 – San Jose, CA – HP Pavilion At San Jose
28 – Las Vegas, NV – Pearl Concert Theater at Palms Casino Resort
29 – Universal City, CA – Gibson Amphitheater at University CityWalk
30 – Sacramento, CA – ARCO Arena
31 – Salt Lake City, UT – Energy Solutions Arena
April 2009
4 – Honolulu, HI – Neal S Blaisdell Arena
6 – Omaha, NE – Qwest Center Omaha
10 – Hoffman Estates, IL – Sears Center Arena