50 Cent's 'Before I Self Destruct' Pushed Back Until Eminem Drops 'Relapse' Album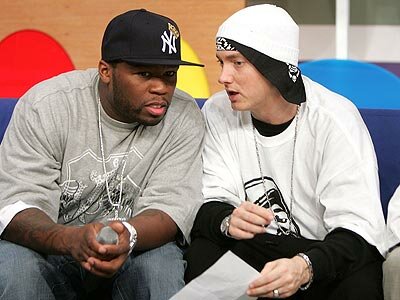 Rapper and businessman 50 Cent says he won't be releasing album "Before I Self Destruct" until Eminem's "Relapse" album comes out.
"They should expect Em's album to come out first," 50 revealed to radio personality Howard Stern on Wednesday (Feb. 25) while out promoting his new video game 'Blood on the Sand.'

50 went on to say that song "Crack A Bottle" was originally made for his album but may now be released on Eminem's album since it seems to be releasing first.
As of to date, Eminem's album has no release date set but is expected to be announced this spring, and may drop in a few months leaving a possible expected date of late summer, early winter for 50 Cent, but those dates are not official.
The first single from 50 Cent's Before I Self Destruct was "Get Up," featuring a new music video and Eminem's first single if appearing on his album was "Crack A Bottle. 50 Cent later released his second single entitled "I Get It In" last month.
In related news, 50′s Cent new video game entitled Blood on the Sand dropped in stores Tuesday (Feb. 24), and is available on the Playstation 3 (PS3) and X-Box 360.