Solange Twitters About Wardrobe Malfunction, "I Always Wear Undies… Now Look"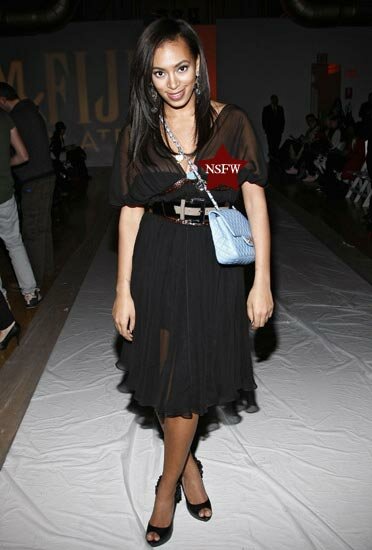 In numerous posts on Solange Knowles' official twitter, the R&B star's recent wardrobe malfunction has not silenced the outspoken starlet one bit, but yet instead sparked a conversation between her, her fans and other twitters on how she regrets now wearing a sheer dress which she was photographed in at the Toni Maticevski Fall 2009 fashion show during Mercedes-Benz Fashion Week in NY on Monday night and caught slipping or should we say 'nip slipping' in front of the camera.

"I always wear undies, never been carried out of the club drunk, I wont even pose for King or any 'eye candy' type shoots and now look:(," Solange Knowles Twitter'd.
Solange continues…
"My shit on display for all the world to see….sings Amy Winehouse's. What kind of fuuuuuuuuckery is this. Why does everyone always wanna say " it could've been worse" when this type of thing happens? arrrrrghh… I hate that! it sucks either way! Just got out of a meeting…..gonna take a nap before this Fader interview I'm wearing turtlenecks for the rest of the year gosh dammit. Argggghhh as OK as I can be… I mean… dont know how your really sposed to feel when this sort of thing happens..lol."
As previously reported, Solange has now become the latest in a long list of celebrity wardrobe malfunctions.
In related news, others who made way their way to the Toni Maticevski Fall 2009 fashion show included Farnsworth Bentley, Kim Kardashian, Reggie Bush, Kayne West who was recently named one of the 10 Most Stylish Men in America in GQ Magazine, amongst others.