Solange Has Wardrobe Malfunction Wearing Dress Like Rihanna's Nip Slip Photo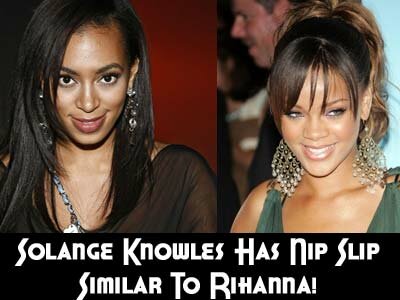 Solange Knowles must have forgotten her double sided-tape at the Toni Maticevski fashion show on Monday night where she happened to become the latest in a long list of celebrity wardrobe malfunctions. The R&B singer showed a little more or should we say a lot more than her fashion sense. Photoed in a black see-thru sheer dress you can clearly see her celebrity skin.

The revealing see-thru dress which is similar to the one worn in this Rihanna nip slip photo shows Solange's nip slip also, but quite more than Rihanna's and much more than the photo of her sister Beyonce's nip slip.
If you're wondering…. Toni Maticevski is the winner of the 2008 International Designer Award for the fashion category.
Meanwhile, go ahead and check out the photos of Solange's wardrobe malfunction that is sure to cause an internet blogging frenzy.
Solange's nip slip photos at Toni Maticevski's fall/winter 2009 fashion show.