50 Cent As 'Pimpin' Curly,' 'Bitch Better Have My Money!'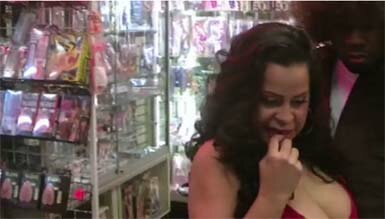 50 Cent is back yet again with Pimpin' Curly Episode 2 'Kiss My Pinky Ring,' the sequel to Pimpin' Curly 1 and follow-up to his now newly launched episode of 'Pimpin Curly' videos sparked by his hip-hop rival Rick Ross, who made the name 'Curly' popular in the diss song 'Kiss My Pinky Ring, Curly' aimed at 50 Cent.

Being the businessman that 50 Cent is known to be, he has taken the diss and is now capitalizing or should we say 'pimpin' the idea of Curly with his own twist much like how the late Rudy Ray Moore, who played Dolemite, did back in the day by capitalizing off the pimp/gangsta lifestyle with a twist of his own humor.
As with episode one, the video starts off with the infamous song/video commercial, off of the movie 'Coming to America' featuring Eddie Murphy and Arsenio Hall entitled "Soul Glo," which (in the movie) was a hair sheen product for the Jheri Curl (aka Jerry curl) style.
"Look b-tch!," says 50 Cent as the music from the 1970′s hit single Shaft begins playing in the background.
"Get out and get a muthuf-ckin date," adds 50 as 'Pimpin Curly' to the woman acting as the prostitute.
"It's cold out," she says.
"Quit playing bitch. We can't wait till muthuf-ckin Spring," Pimpin '50 Cent' Curly adds.
Following the conversation between Pimpin Curly and the woman, which took place in Pimpin Curly's ride (a black Range Rover), the woman was shown in a sex shop looking at a huge black dildo, which she later begged for Pimpin Curly to buy her "daddy, I want this," she stated.
"Bitch… you suppose to be in here getting muthuf-ckin condoms," said Pimpin Curly.
Later the woman would be seen coming out of a 'john' or 'trick' room in a building bringing 'Pimpin Curly' his money as he smacks her on the butt followed by a hug and a kiss.
"I told you about kissing me in my mouth, don't be kissing me in my muthuf-ckin mouth," stated Curly followed by a sweet laugh from the woman.
Check out the video of Pimpin' Curly Episode 2 'Kiss My Pinky Ring':