Q-Tip, J. Period – 'The [Abstract] Best' (Free Mixtape Download)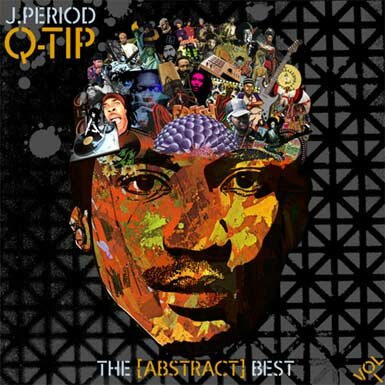 Today, J.Period released his new mixtape project celebrating rapper/producer and former Tribe Called Quest front man Q-Tip, entitled 'The [Abstract] Best, Vol. 1.'

The tribute to Q-Tip album features Busta Rhymes, De La Soul, ?uestlove, Black Sheep, Black Thought, Talib Kweli, Pharoahe Monch, Consequence, Zion I, Skillz, Kid Cudi, Blu and more. Volume 2 is expected to be out sometime in March.
Download: J. Period & Q-Tip – The [Abstract] Best, Vol.1 (175 MB)
Tracklist For Q-Tip, J. Period – 'The [Abstract] Best':
1. J.Period Feat. Prince Paul, Questlove & Randy Watson– Rhythm (Scratch Intro)
2. Cannonball Adderly / Excursions Intro
3. J.Period Feat. De La Soul – Excursions (Tribute Remix)
4. Aquarius Interlude #1: Welcome
5. Q-Tip Feat. Busta Rhymes – Getting Up (DJ Scratch Remix) (The Renaissance)
6. Behind The Scenes: Ghetto Origins [Produced By J.Period]
7. What The Fuss Feat. Stevie Wonder (Shook Remix)
8. Queens Represent (Interlude)
9. Mobb Deep Feat. Nas & Q-Tip – Give Up The Goods (J.Period Remix) [Produced By Q-Tip]
10. Apache – Gangsta Bitch [Produced By Q-Tip]
11. ATCQ – If The Papes Come (Intro)
12. ATCQ – Check The Rhime
13. Behind The Scenes: Don't Walk Away (Interlude)
14. ATCQ –Award Tour
15. Behind The Scenes: Award Tour (Interlude)
16. Hot Butter (Interlude)
17. J.Period Feat. Dres – Jazz Pt. 2 (Tribute Remix)
18. Behind The Scenes: We Got the Jazz (Interlude)
19. J.Period Feat. Blu– Jazz (Tribute Remix)
20. Skypager: Bob Power & Big Daddy Kane (Interlude)
21. Q-Tip Feat. Jay Dilla – Let's Ride
22. Behind The Scenes: Bob Power You There? (Interlude)
23. Q-Tip – Vivrant Thing (Remix)
24. Q-Tip – Move (The Renaissance)
25. Q-Tip – Breathe & Stop (J.Period Remix)
26. Respect To Phife Dawg (Interlude)
27. J.Period Feat. Consequence & Kid Cudi – Buggin Out (Tribute Remix)
28. ATCQ Consists Of…
29. Behind The Scenes: The Native Tongues (Interlude)
30. De La Soul Feat. Jungle Brothers, Q-Tip, Monie Love & Queen Latifah – Buddy (Remix)
31. Respect To Ali Shaheed Muhammed (Interlude)
32. Q-Tip Feat. Busta Rhymes – N.T.
33. A Message From Talib Kweli
34. J.Period Feat. Questlove, Talib Kweli & Randy Watson – Youthful (Tribute Remix)
35. Q-Tip Feat. Amanda Diva – ManWomanBoogie (The Renaissance)
36. Chris Rock: Men Vs. Women (Interlude)
37. De La Soul Feat. Q-Tip – Saturdays
38. De La Soul Feat. Q-Tip & Phife – Saturdays (Remix)
39. Q-Tip – She Likes To Move (J.Period Remix)
40. Dee-Lite Feat. Q-Tip – Groove Is in the Heart
41. Beastie Boys Feat. Q-Tip – Get it Together
42. Behind The Scenes: What Is Kapelka? (Interlude)
43. J.Period Feat. Skillz, Questlove & Randy Watson – What? (Tribute Remix)
44. Behind the Scenes: Busta Rhymes / Scenario (Interlude)
45. Busta Rhymes – Scenario (Unreleased Demo Tape)
46. Behind The Scenes: Hood R.I.P. (Interlude)
47. Hood – Scenario (Remix)
48. Aquarius Outtro
49. Behind The Scenes (Bonus): Reinvention (Kamaal the Abstract – A Million Times)