Rihanna Now Cooperating With Police After Chris Brown Domestic Assualt Charge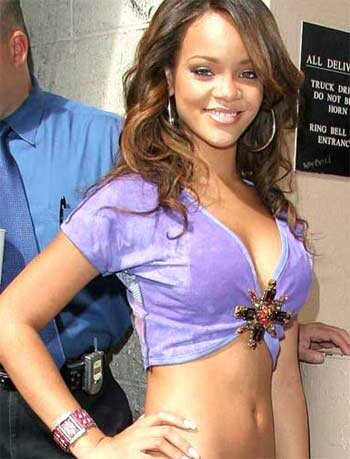 As previously reported, celebrity couple, R&B superstars Chris Brown born Christopher Maurice Brown, 19, and Rihanna, born Robyn Rihanna Fenty, 20, were recently involved this Sunday in some sort of physical altercation with one another at a pre-Grammy party, which led to Rihanna being treated for minor scratches, small cuts and bruises at the Cedars-Sinai Medical Center hospital in Los Angeles and Chris Brown being arrested on domestic assault charges and later released on $50,000 bail.

Well now, after first refusing to press charges and refusing to cooperate with police who were trying to build a domestic violence case against her boyfriend Chris Brown, who she's had a highly publicized love affair with, Rihanna, who was reportedly left with 'bruises and a scratch on her face,' following the physical altercation with Brown according to reports, is now reportedly cooperating with L.A.P.D., according to L.A. Times.
Brown, 19, turned himself in to the Los Angeles Police Department later that same day, and was charged with making criminal threats, and remains under investigation for felony charges of domestic violence.
Since then, Rihanna has been treated and released from the hospital and the singer has opted to cancel a sold-out concert scheduled for Friday in Kuala Lumpur, Malaysia.
Meanwhile, Chris Brown, who later turned himself into the L.A. police department (L.A.P.D.) after the police were allegedly first searching for the 19 year old R&B singer for questioning, has since been released on $50,000 bail, as previously mentioned, and is scheduled to appear in court on March 5 on felony charges of domestic assault.
There have been many speculations and reports as to why the young 'lovebirds' were involved in a physical altercation in the first place. Some reports say the fight between Rihanna and Brown which sparked the physical scuffle was reportedly over a phone call Chris Brown received, while others say it was over a 'break up' conversation.
According to a source close to the investigation, 'Rihanna has been reluctant to reveal to investigators specifically what the couple had been arguing about before it turned physical,' reports E! Online.