Rick Ross Presents: Gay-Unit Workouts (50 Cent, G-Unit Diss)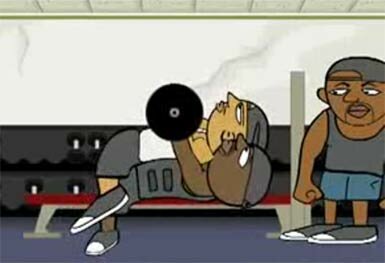 Rick Ross releases his own cartoon diss called "Gay-Unit Workouts," aimed at his rival 50 Cent and his G-Unit camp. Although the first series of animation cartoon disses were first launched by 50 Cent towards Rick Ross, it seems that the once hilarious cartoons has taken a drastic NSFW shift and displays the G-Unit camp in some awkward homosexual positions.

As you may know already, this video will only give 50 Cent more thirst to continue what Rick Ross has started and only acts as a driving force.
In Rick Ross' animation video, 50 tells Lord Banks, "Yo son, get your a– off my tongue so I can speak. Grab the steroids man we need some serious stuff to fight this Rick Ross n-gga."
"Damn Fif," says Tony Yayo.
"You got some sexy ass muscles, monkey," Lloyd Banks says.
"Let's hit the shower son. Yo son word up, I'm thinking later I'ma buy us all some matching clothes. I think I tore a hole in my pants today, Yayo."
"Nah Fif, it felt good, no problems over here son. But for real son, that n–ga Ross f–ked you up on that 'Mafia Music' son. But he got some new sh-t though, some new sh-t son, called 'Magnificent' son, John Legend son. Shit son, uhno what the f-ck we gonna do," Tony Yayo says in the cartoon.
Check out the Rick Ross Gay-Unit Workouts