50 Cent As 'Pimpin' Curly,' Threatens To Cut Rick Ross, Pimp Slap Foxy Brown and 'Pimp Checks' Pimpin Ken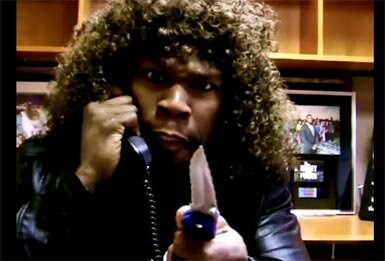 50 Cent has responded in the Rick Ross beef to Foxy Brown and Pimpin Ken in a new diss video entitled 'Pimpin Curly,' where he stars as 'Pimpin Curly,' an 80s-type pimp with a 1980′s 'Jheri curl' style, in the spoof-type video, much like the character 'Randy Watson,' of the band 'Sexual Chocolate' in the movie 'Coming to America.' Give it up for 'Sexual Chocolate!? The role of Randy Watson was played by Eddie Murphy and introduced by the preacher played by Arsenio Hall. 50 Cent's scene even starts after the infamous song/video commerical, that is also off of the movie 'Coming to America,' entitled Soul Glo," which (in the movie) was a hair sheen product for the Jheri Curl (aka Jerry curl) style.

In the video, 50 Cent immediately goes after the new title given to him as a diss by Rick Ross, and made popular in the diss song 'Kiss My Pinky Ring, Curly.'
"That's what I'm trying to tell ya, muthaf-ckers is out there talking behind my back, mayne, yeah," 50 Cent said while on the phone in the video. "He said the muthaf-ckers down south calling me Curly. Can you believe this sh-t! After all I done for these muthaf-ckers… Yeah! Officer muthaf-cking Ricky, n-gga when I catch you, I'ma cut you n-gga!"
50 Cent also 'went in' on Pimpin Ken Radio Show host Pimpin Ken, former real pimp and author of the book 'Pimpology, The 48 Laws of the Game,' for 'testin 50′s pimpin!?'
"Hey I got to address some shit right quick. Muthaf-ckin Pimpin Ken gon' say I ain't muthaf-ckin pimpin… n-gga you'on't kno a pimp when you see a muthaf-ckin pimp.. cause I bought a bitch a couple of fur coats n-gga.. what about the money we gon' make off the book! Ain't that pimpin, pimpin!??" spoke 50 followed by him patting his Jheri curl.
50 Cent then responds to Foxy Brown who threatened to handle 50 Brooklyn style if he didn't retract his line out of his Rick Ross diss song, "Officer Ricky (Try Me)," where 50 says "The cop f-cked a Fox, sucker c-mmed on a bimbo," possibly referring to the brief, relationship between Rick Ross and Brown.
"Muthaf-ckin bitch Foxy Brown gon' tell me I got 24 muthaf-ckin hours to retract the statement… that ho done lost her muthaf-ckin mind. She don't know this is pimpin'," spoke 50 Cent following back him 'pimp slapping the camera as if pimp slappin Foxy Brown.
Check it out.