50 Cent Has Rick Ross' Financial Affidavits, Says Ross Is "$7K in the Hole Every Month"; Likes Possible Rick Ross and Young Buck Collabo, "I Like Losers To Team Up"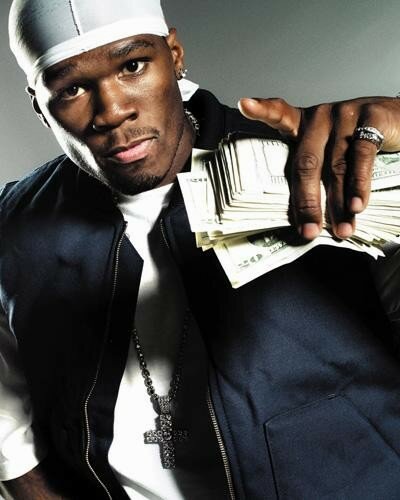 In an interview with Ed Lover of the Ed Lover Show on Power 105 in the morning with co-host Free, 50 Cent spoke about his beef with Rick Ross, when and how he felt about it the first time he heard about it, and how he doesn't get angry when beefing, he just gets "as disrespectful as possible."

"I try to be as disrespectful as possible," stated 50 cent regarding beefing with Rick Ross or anyone he's beefing with. "I do that so they'll leave me alone, eventually they'll stop," added 50.
The rapper also spoke about Rick Ross and how he felt he treated his baby mother in their child support case. As previously reported, 50 Cent brought out Rick Ross' baby mother Tiallondra "Tia" Kemp to NY on this week for an interview in which, 50 Cent hugged up with Tia, interviewed her as she 'spilled the beans' about Rick Ross stating the rapper rents his jewelry, and took her shopping.
50 Cent goes on to confirm that he has video of Rick Ross in uniform accepting a diploma at his correctional officer graduation as seen in the pictures of Rick Ross which leaked on the net and 50 confirms the talk about the rumor that he was bringing on Jacki-O and Trick Daddy to G-Unit, which 50 spoke briefly about.
"I got a few pieces," stated 50 when asked if he had video of Rick Ross in uniform accepting the diploma.
"This guy's a soap opera. This [Rick Ross] is the easiest one I've ever encountered," added 50 Cent.
"She [Jacki-O] just did the cover of Smooth Magazine and it got a good response from that… I said if the music matches with her appearances right now then we can see if we can do something," 50 stated regarding looking to possibly sign on Jacki-O with G-Unit.
Addressing the rumors of Rick Ross and Young Buck possibly hooking up for a collaboration to get at him, 50 Cent stated, "I like to see losers team up. This is good. All of this is stemmed from bad association… even with Joe, Fat Joe, that came from Joc."
More into the interview, 50 Cent goes on to talk about his beef with Lil Wayne which was cut short after 50 says "[Lil Wayne] got awfully quiet," talked more about Buck and Ross including reading off Rick Ross' financial affidavits which 50 had on hand breaking down Rick Ross' finances and expenses; talked about rapper The Game and and their past beef, the material he wrote and produced for The Game; how he came to be introduced and interested in Trina and Trick Daddy; his album Before I Self-Destruct; how he wanted to 'smash' co-host Free back in the day; Dr. Dre's album Detox, Oprah Winfrey and more.
Check out 50 Cent's full interview with Ed Lover and Free on the Ed Lover Show on Power 105 in New York.