Soulja Boy Says, "F-ck Bow Wow, It's Over With, Your Career It's Over With"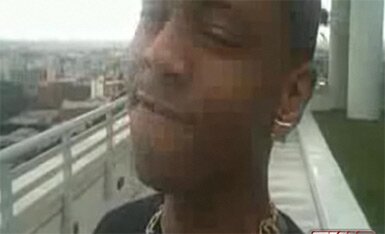 When rapper Bow Wow made the comment that rapper Soulja Boy was 'scared to go back to Atlanta,' in his latest video attack against Soulja Boy, it seems it may have struck a nerve because Soulja Boy is firing back furiously and claims there was "certain sh-t [Bow Wow] shouldn't talk about" but because he did, "it's over" now for his career because he plans to leak the rapper's album for free, weeks before it comes out, and more.

"Your brand new album boy that sh-t ain't selling sh-t. New Jack City Part 2, why the f-ck would you even disrespect a fire ass movie like that boy, that sh-t is a classic. You know you ain't know f-cking gangster, you know you ain't no 'G' boy. You know you ain't from the hood boy, you know you been rich since you wuz a little ass boy," Soulja Boy spoke.
"All ya'll lil Bow Wow fans, all 13 of yall, I got his brand new album, his whole album, I'ma put that sh-t up for free download," added Soulja Boy.
The rapper goes on to speak about the alleged recent robbery and attempted kidnapping which Soulja Boy along with Arab were a victim of in Atlanta after two men reportedly came into Soulja Boy's home and robbed him and Arab at gun point.
"You said I was scared to come back to Atlanta boy you know that's some personal sh-t. You know I already told you the whole situation that went down with that… you knew it was life and death down in Atlanta… you know you done f-cked up…. it's over with, your career it's over with," the rapper says with anguish over the past incident.