50 Cent On Rick Ross, 'What Happened With 2Pac and Biggie Can Happen To Him'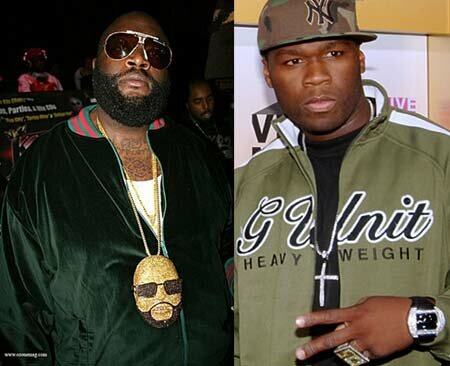 50 Cent isn't letting up anytime soon on his attack against rapper Rick Ross after Ross took aim at 50 Cent and spoke dirt about the rapper in the song Mafia Music. Since then, the two rappers have been going back and forth and with 50 Cent's latest attack, the rapper is making suggestive remarks that he has plans to bring on more rappers, possibly Jackie-O and Trick Daddy, to expose Rick Ross by bringing on rappers from his own state of Florida.

In a previous interview, 50 Cent stated that he would be releasing more career damaging videos aimed at Rick Ross reportedly featuring his counterparts which may 'duct tape' the rapper's mouth from further speaking.
In 50′s latest radio interview with DJ Laz on Power 96 in Miami, the rapper states, "He [Rick Ross] goes you've got 48 hours to come with something better than that. I'm like ok, I'll make it worse on you," after Rick Ross took lyrical jabs at him in his song.
Further into the interview, 50 Cent goes into his recent legal issues with his son's mother Shaniqua Tompkins who took him to court again with this time stating 50 Cent agreed to give her half his fortune which she was denied on Wednesday. Shaniqua Tompkins was already receiving $500,000 a year which then reportedly went down to 80,000 after she quote 'got greedy.' 50 Cent then talks about how Rick Ross' situation is being compared to his situation being that it is related to child support issues, but he mentions how different it is.
"In Rick's case he hasn't done anything for his son's mom in two years outside of letting her drive a truck for two years that he had ownership of."
The rapper also bashes Rick Ross even further stating, "I have artists that have more money than Rick Ross… I don't feel like there's something socially wrong with you deciding to be a police officer, I feel like there's something wrong from a hip-hop prospective for you to write your whole career as being one of the biggest drug dealers in Miami."
When 50 Cent was questioned on the beef that went on between 2Pac and Biggie that resulted in the death of the two on different occassions, the rapper responded, "Well, in all honesty I think if he went far enough to be agitated enough on my end, that could happen to him… we did learn is when you go too far in those situations, you put yourself in the space were they only know one way to respond. Where I come from, the price of life is cheap. I have been under investigation since 2003. Because the price of life is so cheap, and I have acquired so much finances and money, they gotta watch me… Ask me if I wanna go there, naw."
50 Cent goes on to speak about how Rick Ross claims to be dealing so many drugs in his rhymes and it's a contradiction in hip-hop to be a police officer by job, but claiming to be a drug dealer once you get into hip-hop.
Check out the full audio interview.