Rick Ross Says, 'Mafia Music Ended 50 Cent's Career'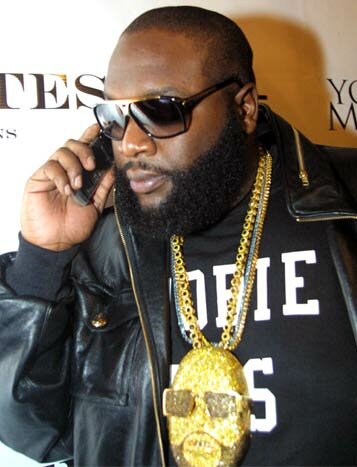 Rick Ross speaks to on-air radio personality Miss Info of New York's Hot 97 and responds to G-Unit's 50 Cent. The radio interview of Rick Ross actually came before 50′s latest video attack against Rick Ross in which the rapper appears on video with Rick Ross' baby mama.
As previously reported, 50 Cent brought out Rick Ross' baby momma Tiallondra "Tia" Kemp to NY who spilled the beans on Ross such as stating that the rapper rents his jewelry and more. Along with 50 Cent's interview, he was hugged up with Tia, and took her and a friend on a shopping spree.
According to a statement by Rick Ross which was made in the radio interview, it seems that Rick Ross was well aware that his son's mother was planning the interview with 50 Cent and here's what he had to say.

"Get Rich or Die Tryin was an incredible album. With the 50 Cent that I'm dealing with today it's not 20% of that. In fact, you know in the South we call him Curly. People, we not going to let Curly sidetrack us and distract us with the girl talk. In the South, girl talk don't get you nothing but hurt. Where I'm from, who cares! Hoe talk is hoe talk. When you wanna talk real n-gga shit, get at me! All that girl shit, I don't entertain that… We not gon' let Curly distract us from the fact that Mafia Music ended his career…"
Rick Ross goes on to state that he's not going to entertain the monkey talk and questions 50 Cent about where's his single and where's his record at and also speaks on the rapper calling his baby mama and offering her money to come up there.
"You had your people contact my baby mama and she asked if they offered money to talk to me. You gotta understand, she has never made more than $300 a week in her life. Would I stand between her making a few dollars with this monkey? Of course not, baby go up there, accomplish whatever you feel you need to accomplish, he's never hurt a f–king bird, a fly. I'm pretty sure you'll be surrounded by cops."
Rick Ross sums his interview up stating that his DJ drives Phantoms, and he doesn't know what 50′s (DJ's) do.
Check out the full audio of that interview.