NFL Star Terrell Owens To Get Own VH1 Reality Show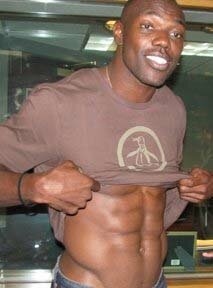 Dallas Cowboys' wide receiver Terrell Owens will be one of the latest celebrities to be getting their own VH1 reality show and surely enough he'll have all the ladies lining up for him and watching him on the tube. The reality show is expected to air this Summer on VH1 and will be called The Terrell Owens Project. The show will feature Monique Jackson and Kita Williams who are stated to be two of Terrell Owens' good friends who work closely with him and are more like his sisters than anything. The two friends will play as matchmakers and therapists for the NFL player and will try to help bring success to his life off the field and will utilize their skills and marketing expertise.

"We are thrilled to bring such a great athlete, who is one of the biggest names and personalities in all the world of sports to VH1 for a surprising high octane look inside his superstar life off the field," stated Jeff Olde, EVP Original Programming & Production.
The series is executive produced by Evan Prager and Jesse Ignjatovic for Den of Thieves. Executive producers for VH1 are Jill Holmes, Alex Demyanenko, Noah Pollack and Jeff Olde.