Music Mogul Russell Simmons Named Editor-in-Chief of Global Grind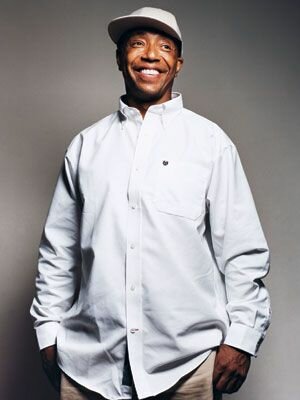 Music mogul, hip-hop pioneer, entrepreneur and co-founder of Def Jam, Russell Simmons, who has also been named as one of the "Top 25 Most Influential People of the Past 20 Years" by USA Today, on today was announced to serve as Editor-in-Chief for the rising Hip Hop news and social media community, Global Grind. Russell Simmons who is an investor in the site and guest blogger along with Reverend Run (Daily Word of Wisdom), and political commentary by Dr. Benjamin Chavis states that Global Grind is the ultimate connect for the Hip Hop community and like-minded creative entrepreneurs and activists. In addition to being announced as Editor in Chief, Global Grind also introduced a new channel to the site "Celebrity Blogger," after their blogs managed to attract a huge following. Global Grind will bring on a number of other celebrity bloggers who influence the Hip Hop community.

The Celebrity Blogger channel will range from a number of topics and will allow the celebrities to connect with fans and have access to fresh new content. Each celebrity blogger will also have their own custom profile page which will display the exclusive content which will also be displayed on the celebrity "Global Coverage" content aggregation pages along with the other participating celebrities content.
In a press release, Navarrow Wright, CEO of Global Grind, stated, "Global Grind is proud to announce Russell Simmons as its Editor in Chief, as it's been a natural progression over the past year with his extensive involvement from the site as an early investor and popular blogger on the site. Global Grind has always been about connecting people: first connecting our audience to the content they want, then connecting leading and emerging sites to users and advertisers through our Grind Network, and now connecting bloggers big and small directly to the new American mainstream, while syndicating their content to key networks like Facebook. I look forward to working alongside Russell to develop this unique global platform in 2009."
Russell Simmons, new Editor in Chief of Global Grind, states, "Ever since my early days in music, through my work in fashion, comedy, film, TV and philanthropy, I have worked as a facilitator of communication, and a promoter of creativity, entrepreneurship, giving, and political engagement. Global Grind is the ultimate connector for the HipHop community and like-minded creative entrepreneurs and activists."
Simmons added, "Whether you're a celebrity, a politician, an artist, a comedian or an emerging blogger, Global Grind gives the community a powerful platform to speak to each other, the media and the world."
Lead venture investor Jim Breyer of Accel Partners noted, "We are very excited to be part of such a fundamental long-term internet opportunity and being partners with an outstanding group of team members and contributors." Breyer has invested in over 30 companies that have completed IPO's or successful mergers, and is also a board member of leading companies such as Wal-Mart, Marvel Entertainment, Facebook, and Etsy.
Some of the celebrity blogging partners that have or is participating include:
Akon
Angela Simmons
Benny Boom
Bow Wow
Brandi Garcia
Brett Ratner
Damon Dash
DJ Cassidy
DJ D-Nice
DJ Khaled
DJ Whoo Kid
Free
Ed Lover
World Famous G-Mack
Gorilla Zoe
Jim Jones
John Legend
JoJo Simmons
Justine Simmons
Kevin Liles
LL Cool J
Militainment Crazy Raw Radio
Little X
Nas
Nelly
Ne-Yo
Nia Long
Rev Run
Sanaa Lathan
Toccara
T-Pain
Trey The Choklit Jok
Big Boy
Noemie Lenoir
LeToya Luckett
Mickey Factz
Vanessa Simmons
Global Grind is headquartered in New York City and launched in January of 2008. The site has partnered with more than 35 publisher sites that are leading and emerging sites of interest to the trend-breaking hip hop community. Global Grind is stated to reach more than 1 million monthly unique visitors and promotes it's slogan/service mark as "The World According To Hip Hop". According to Global Grind, it's Facebook Connect partnership, celebrity content and activity is automatically syndicated to the 150 million-strong Facebook network.