PETA Petitions For NFL to Scan Michael Vick's Brain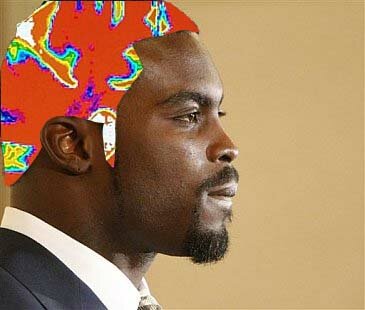 PETA is asking for people to participate in an urge to test suspended NFL player Michael Vick for brain disorder???? PETA (People For The Ethical Treatment of Animals) has stated that they have written the NFL following a recent USDA report indicating that Michael Vick has characteristics that fit the profile for serious antisocial personality disorder.

PETA thinks that Michael Vick should under go a brain scan (MRI brain scan) before being considered back into the football league and should undergo psychological tests.
PETA is an outstanding company, but are some things just going too far?
In addition to this, PETA has been talking with Vick's lawyers and management about doing an anti-dogfighting TV spot and states that they will not participate in the production of a Michael Vick anti-dogfighting PSA unless or until he takes such as test.
Michael Vick was charged with running a dogfighting ring at his Virginia home (Bad Newz Kennel). The NFL star was accused of financing the operation, participating in dog fights and other miscellaneous activities. Vick states that he hasn't killed any dogs himself or placed side bets which is court documented. Vick was sentenced to 23 months in federal prison on December 10, 2007 and is expected to be released by July 20, 2009.
If Michael Vick were to be forced to undergo a brain scan, how many more people and forced brain scans would follow?

Where are we heading? Ever seen the movie Gattaca?