Rapper DMX Does Interview From Arizona Jail, To Create Reality Show From Inside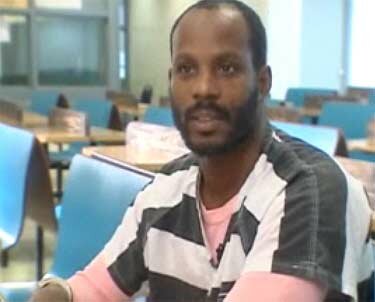 Troubled rapper DMX born Earl Simmons does a jail interview with MyFox Phoenix. DMX sits down with John Hook inside the Maricopa County Jail and discusses falling in love with Phoenix for the sunrise and meeting the devil in Phoenix. DMX goes on to tell Hook during his interview that he's never coming back to Phoenix not even for a show.

DMX was asked why did he get into so much trouble in Phoenix and states that he has actually never been caught at the scene of a crime.
When asked if his time in jail has given him time to think and change DMX states, "Yes it has gotten me closer to my true calling on life…. which is to be a Pastor. I read my Bible everyday."
The rapper goes on to state that he will be creating a reality show while he is in jail called "Pain and Perseverance" due to him being able to reach people that the average person can't reach because he's grounded and he will be doing his first sermon in the church. The rapper also reveals that he has completed a gospel album.
DMX was questioned how he ended up in jail after he's sold millions of albums (28 million copies) and the rapper states, "…everyone who's watching knows how I ended up in here… I'm going to look at in a positive light I came here to meet someone and give them a message… regardless of what it look like…"
At the end of the interview DMX states, "Don't believe everything you read, don't believe everything you hear, and only believe half of what you see, God bless you."
DMX's sentencing is scheduled for January 30 in Arizona which he's expected to finish the maximum 90 days.
By the way, John Hooks which many may not have heard of, until this interview, did a great job of conducting the interview.
Watch DMX's Interview From Jail
[display_podcast]