Jet Magazine's 10 Hottest People To Watch In 2009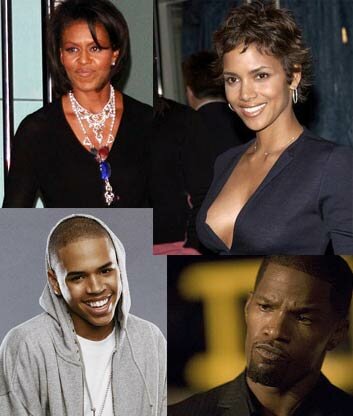 Jet Magazine lists who's hot to watch in 2009 which includes a number of high-profile figures and celebrities in its January 5th edition. Those who made Jet Magazine's yearly list include Michelle Obama who will be celebrating her 47th birthday come January 17th, Jamie Foxx, Chris Brown, Halle Berry, Taraji P. Henson, Jaden Smith (Will and Jada Pinkett-Smith's son), singer Jazmine Sullivan, actor/director Hill Harper, R&B singer Maxwell, and Professional Golfer Tiger Woods.

Others to watch outside of the ten named under "On The Radar" include actor/director Forest Whitaker, Lil Wayne, Samuel L. Jackson, T-Pain, Democratic Strategist Donna Brazile, and Derrick Rose of the Chicago Bulls.
Jet didn't fail to add in the couples named as "Couples To Watch" who will be promoting either new music, movies or other projects in the future. Those listed in the magazine are Robin Thicke and Paula Patton, Derrick "D-Nice" Jones and Malinda Williams, and everyone's most watched couple, Nick Cannon and Mariah Carey.