Notorious Movie Premiere in New York Brings B.I.G. Celebrities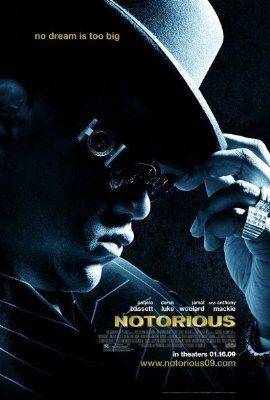 The only person missing from the world "Notorious" movie premiere Wednesday night (January 7, 2009) in New York was the late Biggie himself and rapper Lil' Kim, who reportedly is upset over her role as Biggie's mistress portrayed in the movie. Other than that, celebrities, entertainers, friends and family all came together at the 'Notorious' Movie Premiere. Among those, from music to film to entertainment, who came out and took to the star-studded carpet affair to celebrate and remember the late rapper Notorious B.I.G. at the AMC Lincoln Square Theater in New York City were Spike Lee, Idris Elba, Beyonce Knowles, Jay-Z, Diddy, actor Tyrese Gibson, Ice-T, Coco, Faith Evans, actor Derek Luke, actress Angela Bassett, actor Anthony Mackie, Busta Rhymes, Doug E. Fresh, Cassie, Ciara, Lil Mama, Ja Rule, Jadakiss, Mary J. Blige, Nas, Q-Tip, Russell Simmons, Irv Gotti and many more.

Of course, Biggie's mother, Voletta Wallace, was among the many celebrity faces, and Beyonce Knowles-Carter and Shawn 'Jay-Z' Carter, both, showed up together and Diddy, who worked as an executive producer for the project honoring his best friend, showed up in Diddy fashion, meaning he was 'clean and sharply' dressed. Diddy was joined by Biggie's wife and widow, Faith Evans, who thanked everyone after the screening and later spoke on the mic after the movie premiere which was followed by an after-party at the legendary Roseland Ballroom in New York City. "Y'all here to party for Biggie?" asked Faith Evans at one moment while prompting the DJ to cut the music so she could speak.
Say 'Yeah!" Evans stated. "I see D-Dot in here. Shout-outs to the Bad Boy family."
"Where's Brooklyn at? Y'all in this muthaf—a? Y'all came to party with B.I.G.? Say, 'Yeah!' F— that, say, 'Yeah!' Let's do it like New York ni–as know how to do it!"
Meanwhile, Biggie's loved crew and Brooklyn's Junior M.A.F.I.A.'s Damion "D-Roc" Butler, Money L and Lil' Cease were in attendance as well.
Prior to that, Diddy was, reportedly, one of the last to leave the theater after the movie screening of his beloved best friend.
'Notorious' is about the life and untimely death of the rap legend, The Notorious B.I.G., born Christopher Wallace, who rose from the streets of Brooklyn to become one of the most influential hip hop artists of all time.
The film stars multiple award winner Angela Bassett as Biggie's mother Voletta Wallace, Derek Luke as Sean "Puffy" Combs, Anthony Mackie as Tupac Shakur, Antonique Smith as Faith Evans, Naturi Naughton as Lil' Kim, Julia Pace Mitchell, Sean Ringgold as Suge Knight and Jamal "Gravy" Woolard as The Notorious B.I.G.
Notorious is slated to hit theaters Friday, January 16.
Video: Diddy on The Notorious Movie Premiere in New York

Photos From The Notorious Movie Premiere in New York