Eminem's New Song, 'Crack A Bottle,' Featuring Dr. Dre And 50 Cent, Leaks On The Web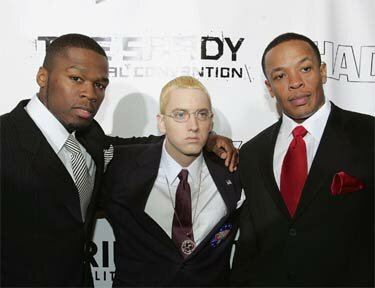 A few weeks ago, an unfinished Eminem track appeared on mixtapes under the title "Number One." On Tuesday, another version by Slim Shady titled "Crack a Bottle" featuring Dr. Dre and 50 Cent hit the net.

As previously mentioned and recently reported, the Eminem track originally appeared back in early December under the title "Number One," on Big Mike & Neptune's 4th Quarter Pressure Part 2 mixtape.
In the chorus Eminem raps, "So crack a bottle, let your body waddle/ Don't act just like a sloppy model, you just hit the lotto. Uh-oh, uh-oh, b—-es, hoppin' in my Tahoe/ I got one riding shotgun, and not one of them got clothes."
The new track which now includes new verses from Dr. Dre and 50 Cent, is expected to be included on Slim Shady's upcoming album, Relapse, which is expected to be out the first quarter of 2009.
Listen to Eminem ft. Dr. Dre and 50 Cent – Crack A Bottle