40th NAACP Image Awards Nominees Announced; Jennifer Hudson, Beyonce, Alicia Keys, others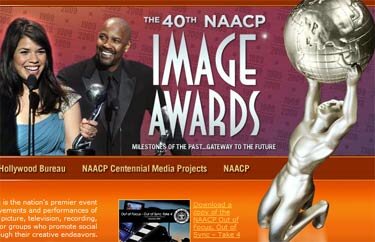 Nominees for the 40th NAACP Image Awards were announced at a live press conference which consisted of Corbin Bleu, Audra Mcdonald, Keke Palmer, Nate Parker, Regina Taylor and NAACP Executives. The awards ceremony which will air live on Fox in Los Angeles at the historic Shrine Auditorium on February 12th. The ceremony will be hosted by Academy Award-winning actress Halle Berry and Tyler Perry who are previous NAACP Image Award recipients.
R&B singers Beyonce Knowles, Alicia Keys and Jennifer Hudson will be competing for the Image Award for outstanding female music artist and for best music video. The singers will also be competing for supporting film actress with Alicia Keys and Jennifer Hudson both up for "The Secret Life of Bees" and Beyonce Knowles for the movie role in "Cadillac Records."

Jennifer Hudson currently has 7 nominations while Beyonce Knowles-Carter has 5 nominations, and Alicia Keys with 4. Others who were nominated for the 40th NAACP Image Awards include Blair Underwood with 3 nominations, 9 nominations for actors/actresses in Tyler Perry's productions, Hill Harper with 2 nominations, Angela Bassett with 2 nominations, Alfre Woodard with 2 nominations, amongst others.
The 40th NAACP Image Awards will air live on Thursday, February 12 (8:00 – 10:00 PM ET/PT Tape-delayed) on FOX.
Complete List (7 pages):
TELEVISION CATEGORIES
Outstanding Comedy Series • "30 Rock" (NBC)
• "Everybody Hates Chris" (CW)
• "The Game" (CW)
• "Tyler Perry's House of Payne" (TBS)
• "Ugly Betty" (ABC)
Outstanding Actor in a Comedy
Series
• Donald Faison – "Scrubs" (NBC)
• LaVan Davis – "Tyler Perry's House of Payne" (TBS)
• Paul James – "Greek" (ABC Family)
• Terry Crews – "Everybody Hates Chris" (CW)
• Tyler James Williams – "Everybody Hates Chris" (CW)
Outstanding Actress in a Comedy
Series
• America Ferrera – "Ugly Betty" (ABC)
• Cassi Davis – "Tyler Perry's House of Payne" (TBS)
• Tia Mowry – "The Game" (CW)
• Tichina Arnold – "Everybody Hates Chris" (CW)
• Tracee Ellis Ross – "Girlfriends" (CW)
Outstanding Supporting Actor in a
Comedy Series
• Blair Underwood – "The New Adventures of Old Christine" (CBS)
• Dulé Hill – "Psych" (USA)
• Lance Gross – "Tyler Perry's House of Payne" (TBS)
• Larramie 'Doc' Shaw – "Tyler Perry's House of Payne" (TBS)
• Tracy Morgan – "30 Rock" (NBC)
Outstanding Supporting Actress in a
Comedy Series
• Keshia Knight Pulliam – "Tyler Perry's House of Payne" (TBS)
• Tisha Campbell-Martin – "Rita Rocks" (Lifetime)
• Vanessa Williams – "Ugly Betty" (ABC)
• Wanda Sykes – "The New Adventures of Old Christine" (CBS)
• Wendy Raquel Robinson – "The Game" (CW)
Outstanding Drama Series • "Grey's Anatomy" (ABC)
• "House" (FOX)
• "Lincoln Heights" (ABC Family)
• "The Unit" (CBS)
• "The Wire" (HBO)