Rapper DMX Videotaped in Prison Chains Wearing Pink Underwear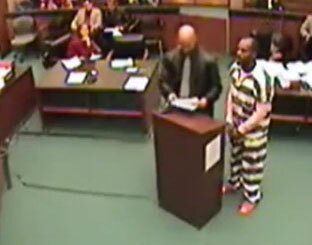 Video footage of rapper DMX in court pleading guilty on Tuesday (Dec. 30) has been published on the internet with the rapper in chains and wearing pink shoes in a prison uniform with pink underwear.
Back in July, the rapper reportedly may have been ordered to wear pink underwear under his prison uniform and listen to bedtime stories as a punishment all apart of a new program enforced in Arizona, according to MemphisRap.com.

As recently reported, DMX, born Earl Simmons, 38, pled guilty on Tuesday to multiple charges of animal cruelty, a felony count of theft and one count each of felony possession of marijuana and a narcotic drug.
The rapper will be sentenced in Maricopa County Superior Court in Arizona on January 30, 2009.
Video: Rapper DMX in Chains Wearing Pink