Viacom To Pull MTV, VH1, and Others From Time Warner Over Dispute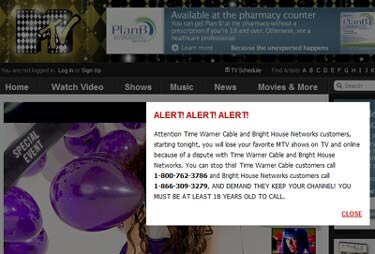 At midnight tonight Viacom is expected to pull it's most popular TV stations off air on Time Warner Cable Networks. As of today, December 31st, on the eve of a New Year, MTV.com issued out an alert to visitors to its website in the form of a pop-up window stating that Time Warner Cable and Bright House Networks will be pulling MTV channels down over a dispute between the cable companies and MTV (Viacom Inc.).

Reportedly, this will effect over 18 channels over the Time Warner Cable network which includes not only MTV, but Comedy Central, Nickelodeon, VH1 and other popular channels.
Here's the alert issued via MTV.com.
ALERT! ALERT! ALERT!

Attention Time Warner Cable and Bright House Networks customers, starting tonight, you will lose your favorite MTV shows on TV and online because of a dispute with Time Warner Cable and Bright House Networks. You can stop this! Time Warner Cable customers call 1-800-762-3786 and Bright House Networks customers call 1-866-309-3279, AND DEMAND THEY KEEP YOUR CHANNEL! YOU MUST BE AT LEAST 18 YEARS OLD TO CALL.
The company Viacom also issued a full page advertisement to newspapers and issued alerts over it's TV stations along with tickers and announcements.
Viacom is looking for a new fees deal to be reached by Thursday or 13.3 million subscribers at 12:01 am will see their TV shows go off the air.
"The renewal we are seeking is reasonable and modest relative to the profits Time Warner Cable enjoys from our networks," Viacom said. "We have asked for an increase of less than 25 cents per month, per subscriber, which adds up to less than a penny per day for all 19 of MTV Networks' channels.
"We make this request because Time Warner Cable has so greatly undervalued our channels for so long," Viacom said. "Americans spend more than 20 percent of their TV viewing time watching our networks, yet our fees amount to less than 2.5 percent of what Time Warner generates from their average customer."
On the other side of the story, Glenn Britt, president and chief executive of Time Warner Cable, is accusing Viamcom of trying to extort an additional 39 million dollars annually from it's customers.