New Myspace Music Service Partners With 'Big Four Labels'; Offers 1,000′s Of Free Songs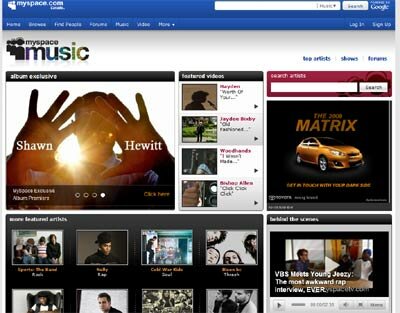 Myspace music who's top artists consists mainly of Hip-Hop, R&B, and Pop acts recently launched a new service for majors which independent labels are stating has excluded them. The new ad-supported service which launched on Thursday, allows Myspace users the ability to stream hundreds of thousands of songs for free, share playlists with friends from across the globe for songs from all four of the major labels that have claimed their stakes in the new venture (EMI, Universal Music, Sony BMG and Warner Music) and independent music distributor The Orchard.

While independent labels such as Koch were not able to jump on board individually, Merlin which represents over 10,000 of the Independent labels such as Koch was offered a working relationship with The Orchard. The working relationship, at this point, hasn't successfully come together.
As Independent labels aim to stake their claims after helping the social network community grow into what it has become, other features from the new service will also allow users to search for music by artist name, song title or album title and instantly listen to it for free. Users will also have the ability to buy the track from Amazon and add that song to their playlists.
Previously, MySpace users could only have one song on their profile, but now with the new service, users can have up to 10 songs in their My Top Song list and up to 100 of their favorites in their MyProfile list. Songs that were 90 seconds snippets will now be available as full stream songs.