Aubrey O'Day of Danity Kane Complex Magazine Cover; Behind The Scenes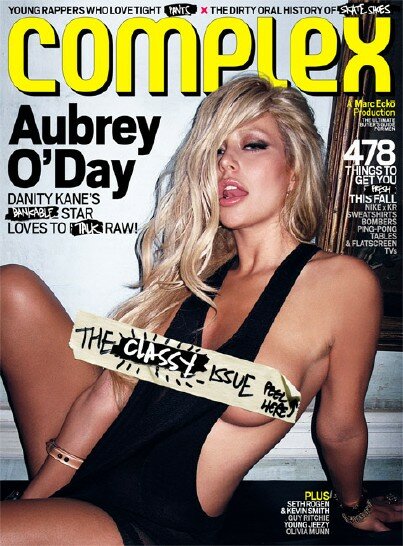 Check out Aubrey's Complex magazine cover for the October issue. What do you think, classy or trashy?


Here an excerpt from Aubrey's Complex Magazine feature:
When people see you in the tabloids and blogs, they tend to think—
Aubrey O'Day: —that I'm a ho, a dumb blonde girl.

I wouldn't necessarily say that.
Aubrey O'Day: No, let's address it, because that's what everybody says.

Well, when you're out at clubs, you must get approached in an aggressive way.
Aubrey O'Day: I think urban guys look at me and are like, "Here's the white girl I'm gonna fuck." Like, I met a famous basketball player the other night.

Who? What team?
Aubrey O'Day: I can't, he's too big. And, like, married.

LeBron! Carmelo! Yao Ming?!?!
Aubrey O'Day: [Silence.]

Okay, I'll stop.
Aubrey O'Day: So this nasty guy came up to me and says, "Come here. I'm the man, haven't you heard?" And I said, "Well, I'm the woman, haven't you heard?" And he was like—this is the third thing out of his mouth—"Well, I have a hotel here, so when are you going to come by to my room?"
Check out the full Aubrey O'Day interview with Complex Magazine.