Rapper Lil Webbie Arrested After High Speed Police Chase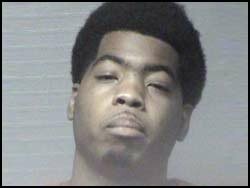 Louisiana rapper Lil Webbie, real name Webster Gradney, 23 (September 6), was arrested after a high speed chase on I-59 in Hattiesburg, MS. An article on "MemphisRap.com states that the police tried to stop a 2009 Dodge Challenger for a traffic violation which police state the driver ignored police lights and continued driving recklessly, according to WAFB. Lil Webbie managed to hit a black 1999 Mercury Cougar leaving the police to tend to the victims and lose sight of him. The police did manage to find the Challenger abandoned on a Walmart parking lot where witnesses informed them that a new vehicle had been obtained which was described as a 1993 Ford Crown Victoria. Police later found the automobile matching the description given by witnesses and found three men inside of it including rapper Lil Webbie.

The rapper was arrested and booked at the Forrest County Regional Jail on charges of one count of felony eluding, one count of driving under the influence, and one misdemeanor count of possession of marijuana. The other men were questioned and then released.
Developing…