'Just Stand Up' Video ft. Mariah, Beyoncé, Mary J., Rihanna, Fergie, Keyshia Cole, Ciara and others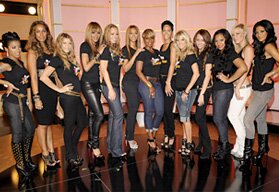 "Just Stand Up!" is a song featuring the female vocals of an all-star cast of pop/R&B/hip-hop/rock performers, including Mariah Carey, Beyoncé Knowles, Mary J. Blige, Rihanna, Fergie of Black Eyed Peas, Sheryl Crow, Nicole Scherzinger of Pussy Cat Dolls, Natasha Bedingfield, Miley Cyrus of Hannah Montana, Leona Lewis, Carrie Underwood, Keyshia Cole, LeAnn Rimes, Ashanti and Ciara.

Producer/songwriter Antonio "L.A." Reid co-produced the track with with songwriter/singer Kenneth "Babyface" Edmonds. The single was released on August 29, 2008.
"Just Stand Up!" aired live on the "Stand Up to Cancer" telethon simultaneously on ABC, CBS and NBC on September 5. Learn more about "Stand Up To Cancer" at standup2cancer.org.